The global CMOS image sensor (CIS) market revenue fell for the first time in a decade to reach $19 billion in 2022, a decline of 7% YoY, according to Counterpoint Research's data.
Sluggish demand from the mobile phone, surveillance and PC and tablet segments led to this weaker-than-expected market performance. The CIS market revenue in the smartphone segment was down 10% YoY to $13.2 billion. Market share also fell below 70%.
CIS revenue in both the PC/tablet and surveillance segments also fell YoY as demand for PCs and tablets and surveillance equipment took a dive from the highs of the pandemic era.
The automotive, digital camera and industrial segments' revenues however increased in the year driven by the growing adoption of autonomous driving; increase in the average selling price (ASP) of cameras; and strong demand for smart factories and industrial automation, respectively.
Global CIS Market Revenue by End User (2022 vs 2021)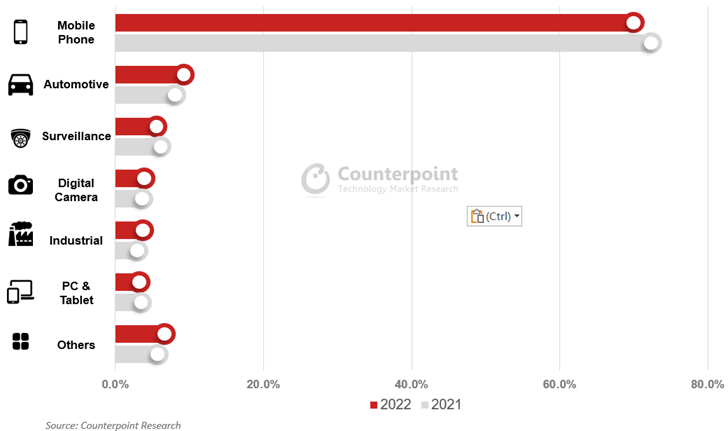 In the outlook for the year, the global CIS industry is expected to slowly recover and see a low-single-digit YoY growth driven by strong demand from automotive and industrial markets and a modest recovery of the mobile phone market. But there are still uncertainties over geopolitical conflicts, global inflation and the macroeconomic environment.