Founded in 2008, Techloy is a technology company that operates in the media industry. Techloy.com publishes information about companies, products, careers, and finance in the technology industry across emerging markets globally.
From its early beginnings as a blog, Techloy obsessively profiled startups, broke the biggest news, reported exclusive stories, produced stellar reviews, crafted incisive opinions, and produced a thought-provoking analysis of the nascent technology startup ecosystem in Africa.
"Techloy is Africa's most authoritative technology blog." – Forbes, 2012
Our Mission
Since its launch in 2010, Techloy has continued to build on its reputation as the most authoritative news publication covering the technology scene across Africa. Over the years, Techloy's forward-thinking approach as a digital publication has seen it evolve from a blog to a full-fledged technology media company providing deeper insights into news stories that matter around the economy, technology, mobile, business, and finance.
If you want to keep up with information about startups, careers, venture funding, and technology innovations in emerging and frontier markets, subscribe to Techloy.com.
Techloy's goal is to become a leading technology company providing business, career, and financial information for the technology industry in emerging markets globally. To date, Techloy remains independent, bootstrapped, and privately held, which differentiates us in the increasingly complicated tech media landscape – and as such, we are free from the influence of any government, corporate, or individual interests.
"Techloy's reputation as the best site covering the African tech scene is well-deserved." – Samara Lynn, Technology editor for Black Enterprise magazine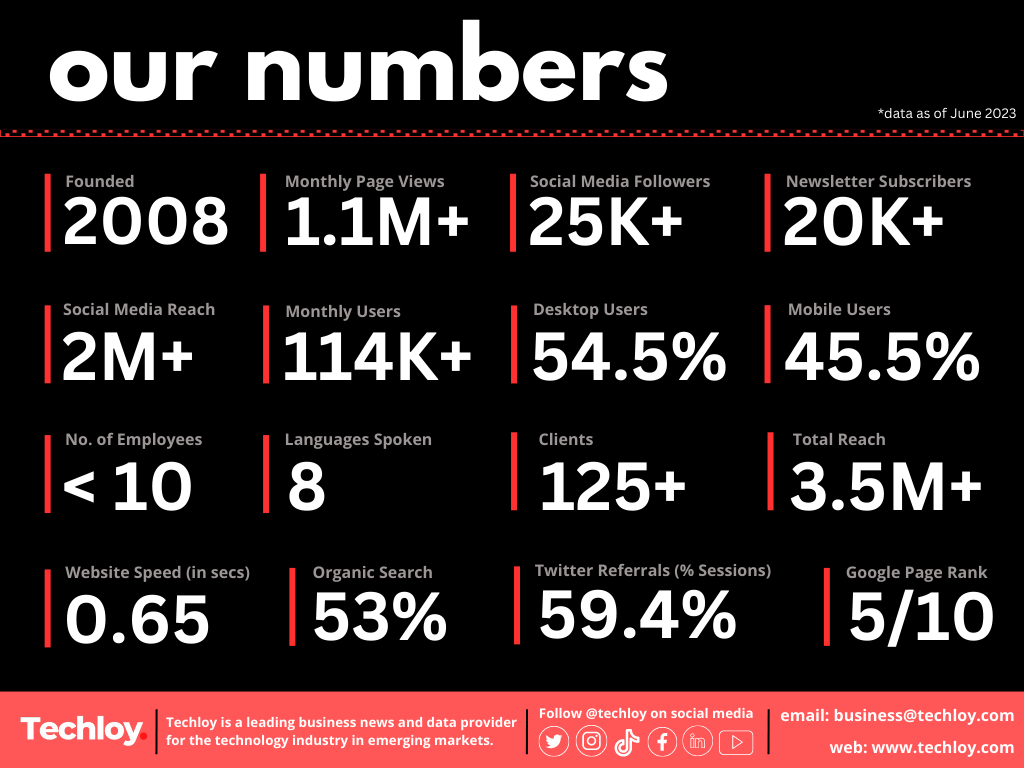 Our Products
Techloy welcomes companies and organizations around the world to partner or advertise with us to bring their thought leadership and messages to a global business and technology audience through the sponsorship of our newsletter, Techloy Weekly, sponsored content, and our research and intelligence products.
If you or your organisation are looking to inform and educate your audience or clients on relevant topics and trends through visualisations, Techloy provides digital marketing solutions and information marketing services that can enhance your product and brand messaging through the creation of customized digital infographics, charts, reports, whitepapers, and e-books.
To learn more about Techloy's products and services, kindly get in touch or email Dami for a discussion of your needs and budget or request our rates card.
"If you want to create a strong impact for your brand or client in the digital media space, Techloy.com is the right place." – Loy Okezie, founder of Techloy.com
Our Team
We are a small team with a big dream to become a leader in business and financial information in emerging markets globally.
At Techloy, we pride ourselves on a young, vibrant, and creative bunch with combined skills and decades of experience in tech journalism, business intelligence, social media content creation, web development, project management, UI design, digital marketing, SEO, product management, and data analysis.
Techloy has stellar alumni who have either launched their own successful businesses or have worked/currently work in the venture capital and technology sectors in companies such as Paystack, Polar Signals, and PiggyVest.
We're always on the lookout for talent who are quick to learn, given to growth, have versatile skills, and understand processes, to help grow the company. Working at Techloy provides you with the opportunity to learn, grow and progress in a fast-paced creative industry with lots of perks and flexibility.
Techloy operates remotely and is independently owned and operated with the pioneering spirit of a startup and with a team working remotely from various locations that stay connected via technology.