Qualcomm, one of the world's largest chipmakers, recorded a revenue growth of 22% YoY to reach $11.4 billion in Q3 2022, which is also the last quarter of its financial year amid multiple macroeconomic headwinds and weakening consumer sentiment.
The company's chipset business revenue increased 28% YoY to an all-time high of $9.9 billion, while the QTL (Qualcomm Technology Licensing) business revenue declined 8% YoY to $1.4 billion due to weaker smartphone unit sales resulting in lesser royalties.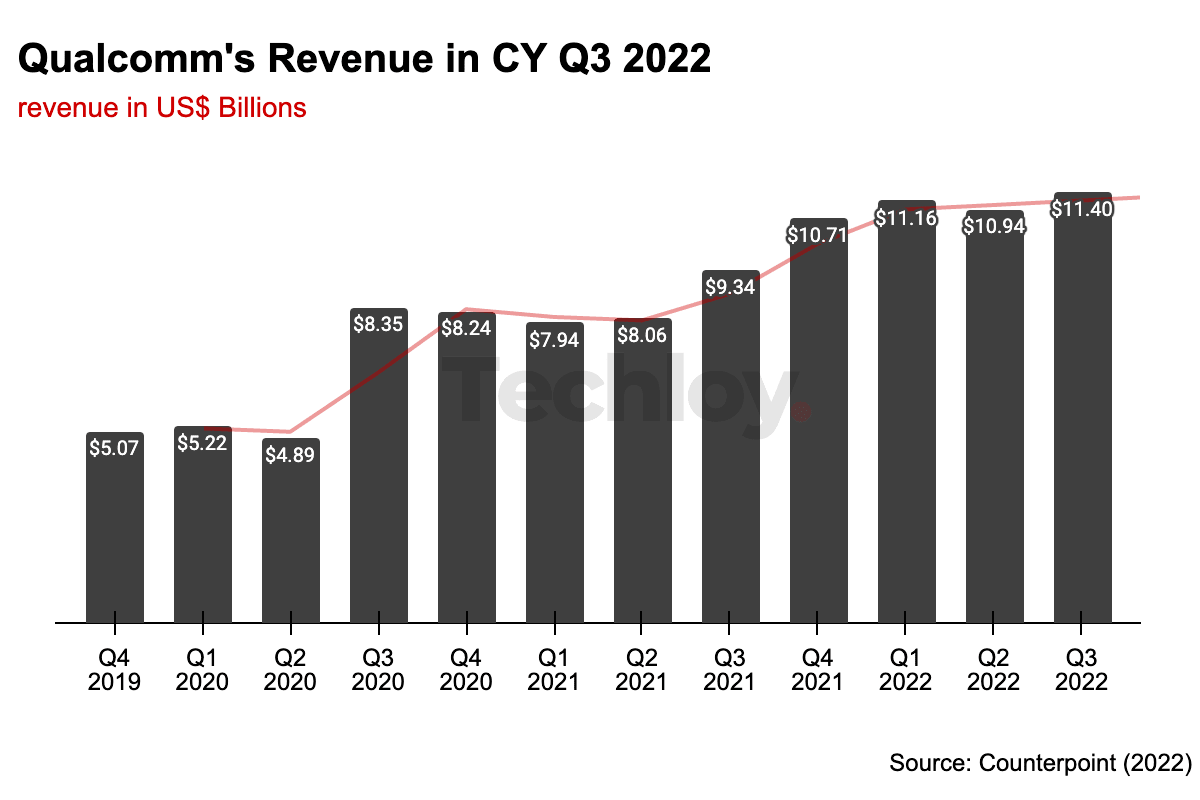 The handset segment revenues, grew 40% YoY to reach $6.6 billion. Handsets contributed around 66% of the total QCT revenues. The smartphone SoC shipments were driven by strong adoption of the flagship Snapdragon 8 Gen 1 and Snapdragon 778G series in the premium and high-end segments respectively.
IoT revenues grew 24% YoY to reach $1.9 billion in Q3 2022 driven by edge networking and industrial IoT. Qualcomm signed a multi-year agreement with Meta for AR/VR on Snapdragon chipsets.
Auto revenues grew 58% YoY, to reach $0.4 billion, driven by Snapdragon Digital Chassis. Qualcomm has an auto design win pipeline across connectivity, digital cockpit and ADAS worth over $30 billion.
RFFE (Radio Frequency Front End) revenues declined 20% YoY to reach $992 million due to the continued weakness of the handset market and channel inventory.
Even with the bump in revenue in the just concluded financial year, Qualcomm's outlook for the next financial remains modest as a result of ongoing macroeconomic turbulence, an inflationary environment, geopolitical tension in Ukraine and lockdown restrictions in China.