Africa's largest telecom firm, MTN Group has posted its financial results for the third quarter of 2022 and Techloy takes a dive into the results.
The company posted resilient financial results for the third quarter of 2022 on the back of strong performances from its two largest markets – South Africa and Nigeria.
South Africa, which is the second-largest contributor to MTN Group service revenue after MTN Nigeria, grew subscriber numbers by more than 800,000. Representing a growth of 8.1%, pushing its total subscriber number to 35.9 million in the first nine months of the year.
MTN Group subscribers increased by 6.8% to 285 million in total, with its fintech business' customer base rising by 23.3% to 63 million; and fintech transaction volumes increased by a third to 9.5 billion.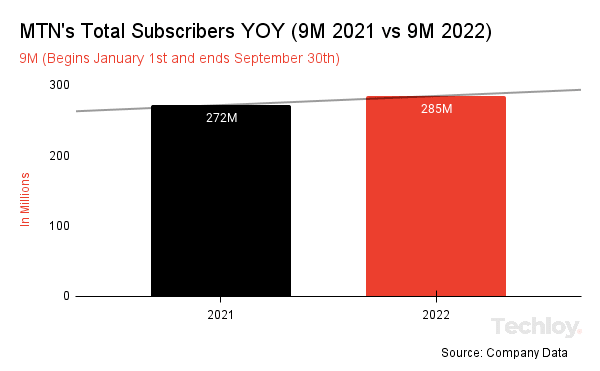 In the period under review, MTN South Africa's enterprise business continued to expand, delivering service revenue growth of 19.7%. The consumer postpaid business was resilient, with a growth of 4.2%.
The company also reported group service revenue of about R144 billion (~$8.2 billion), representing a growth of 14.3% in line with its medium-term targets, with group voice, data and fintech revenue increasing 2.7%, 33.2% and 12.9% respectively.
The Group maintained a strong balance sheet with the early partial settlement of $300 million of 2024 Eurobonds, resulting in lower hard currency debt and reducing the holding company leverage to 0.8x.
Regarding the outlook of the company for the rest of the year, Group CEO, Ralph Mupita said despite the difficult geopolitical conditions and macroeconomic environment globally, the MTN Group was well positioned to withstand any shocks or take advantage of growth and value-creating opportunities that may arise.