Did you know you can get a Nanodegree Scholarship to enhance your future career or skill set in today's most sought-after, in-demand tech skills?
Udacity, an online learning platform that offers a wide range of courses and Nanodegree programs in various fields, with a focus on technology and computer science in collaboration with Access Bank, a leading multinational commercial bank headquartered in Nigeria, is awarding 1,000 Nanodegree program scholarships for the year 2023.
The Access Bank scholarship program offered through Udacity is designed to provide individuals with an opportunity to acquire skills in technology-related fields such as Business Analytics, Programming, Data Science, Product Management, and Digital Marketing.
As part of the scholarship program, recipients will have the opportunity to showcase their expertise in sought-after tech skills through a portfolio of real-world projects. By successfully completing these projects, they will demonstrate their mastery of these skills, enhancing their chances of success in the tech industry.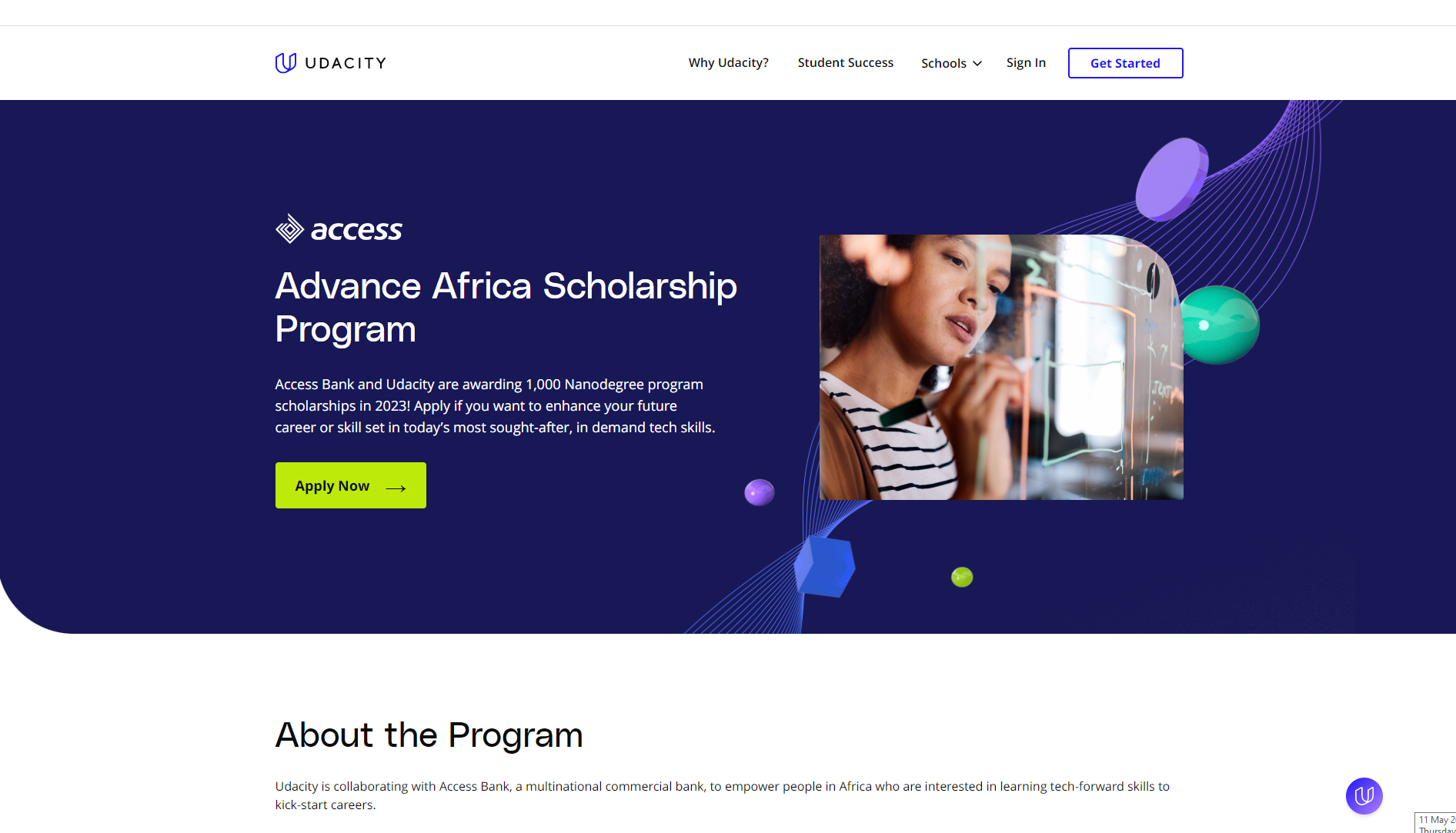 The scholarship covers the cost of enrollment in specific Udacity Nanodegree programs, which are comprehensive, project-based online programs designed to enhance learners' skills in specific areas.
By participating in this scholarship program, individuals can gain access to quality education in technology fields, regardless of their financial situation. It aims to promote learning and skill development, ultimately empowering individuals to pursue career opportunities in the tech industry.
Here are the five Nanodegree scholarship programs available through the Udacity/Access Bank collaboration:
Business Analytics: Gain foundational data skills applicable to any industry. Collect and analyze data, model business scenarios, and communicate your findings with SQL, Excel, and Tableau.
Intro to Programming: Your first step towards careers in web and app development, machine learning, data science, AI, and more. This program is perfect for beginners.
Programming for Data Science with Python: Prepare for a data science career by learning the fundamental data programming tools: Python, SQL, command line, and Git.
Product Manager: Envision and lead the product strategy of industry-defining products and learn to successfully bring them to market.
Digital Marketing: Gain real-world experience to run live campaigns as you learn from top experts in the field.
The collaboration between Udacity and Access Bank is driven by a shared commitment to addressing the gap between the number of available tech jobs and the representation of Africans working in the tech industry.
By providing opportunities that were previously inaccessible, they are dedicated to empowering individuals to succeed in the digital world. The offering of scholarships for Africans to enrol in the nanodegree programs will equip individuals with practical and cutting-edge tech skills that are in high demand.
Additionally, the vibrant student community fosters engagement, collaboration, and networking, while access to subject matter experts and on-demand tutors ensures guidance and support throughout the learning journey.