China's big data and analytics market's total IT investment of $17 billion in 2022 is predicted to double to $36.49 billion by 2026, with a five-year compound annual growth rate of close to 28% according to an IDC report discussing the growth and potential of China's big data and analytics market.
The report also noted that China's big data and analytics market share is predicted to grow within the five-year forecast, surpassing the Asia-Pacific region (excluding China and Japan) by 2024, and approaching 8% of the global total by 2026.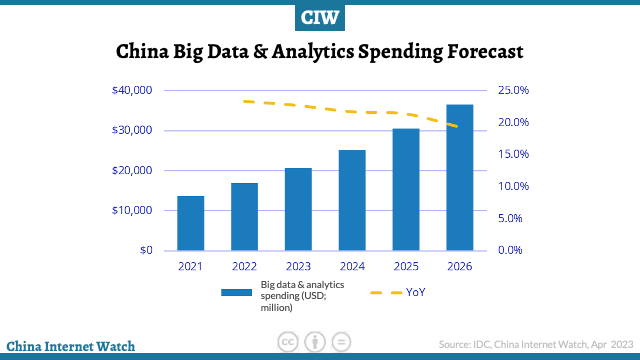 In the short term, the hardware market will continue to receive a significant portion of big data IT investment, accounting for almost 40%. However, over the long term, the software is projected to become the leading technology sector with a compound annual growth rate (CAGR) of around 28% over the next five years and is expected to surpass the hardware market in size by 2026.
IDC observed that the market's growth is driven by vendors' investment in computing and storage, data middle platforms, and big data analytics services, with a focus on finance, government, energy, and manufacturing industries. The success of ChatGPT is also drawing significant capital attention to the data computation and storage sectors, pushing the big data market towards a larger scale, increased computing power, and more specialized services.