If you are running a business today, you need to have a strong online presence to succeed. One way to do this is by building an online store that can enable you to sell your products or services to customers all over the world.
In 2022, retail e-commerce sales were estimated to exceed $5.7 trillion worldwide, and this figure is expected to reach $7.5 trillion by 2025, according to Statista.
Most businesses in the modern age rely on e-commerce platforms to manage their digital stores, helping them to broaden their range of products/services for sale, expand their business, attract more customers, and diversify their sales.
These platforms provide elegant online store interfaces, SEO features, multiple payment options, inventory management tools, and more to help businesses looking to sell online attract customers and maximise sales.
One of the most popular e-commerce platforms in the world is Shopify, which currently powers about 4 million online stories, with the number of stores on the platform growing by over 200% between March 2020 and January 2022, according to data from BuiltWith.
Other players include BigCommerce, Wix, WooCommerce, OpenCart, and Strikingly. Although the majority of these platforms share similarities, they have distinct differences that could make them more suitable than the other depending on the needs of your business.
In this article, we will explore some of the features as well as the pros and cons of two of these e-commerce platforms – Shopify and Strikingly – as a guide to help any small business to make the right decision to start selling online.
Shopify is a popular e-commerce platform that has been around since 2004. The platform is designed to help businesses of all sizes create and manage their own online store, with a wide range of features and tools to support online sales.
Shopify offers a wide range of features and tools to help businesses create and manage their online store. Some of the key features include:
A user-friendly interface that allows businesses to create their store without any coding or technical knowledge
A variety of customizable templates to choose from, allowing businesses to create a unique and professional-looking store
Multiple payment options, including credit cards, PayPal, and Apple Pay
Built-in SEO features to help businesses rank higher in search engine results
Inventory management tools to help businesses keep track of their products and stock levels
Integration with third-party apps and services, including social media platforms, email marketing tools, and shipping providers.
Pros:
User-friendly interface, making it easy for businesses to create and manage their online store
Wide range of features and tools to support online sales, including customizable templates and built-in SEO features
Integration with third-party apps and services to extend the platform's functionality
Reliable and secure platform, with 24/7 support available for businesses.
Cons:
Higher pricing compared to some other e-commerce platforms, starting from $29 per month
Limited customization options for some features, such as the checkout process.
Transaction fees for businesses using third-party payment gateways.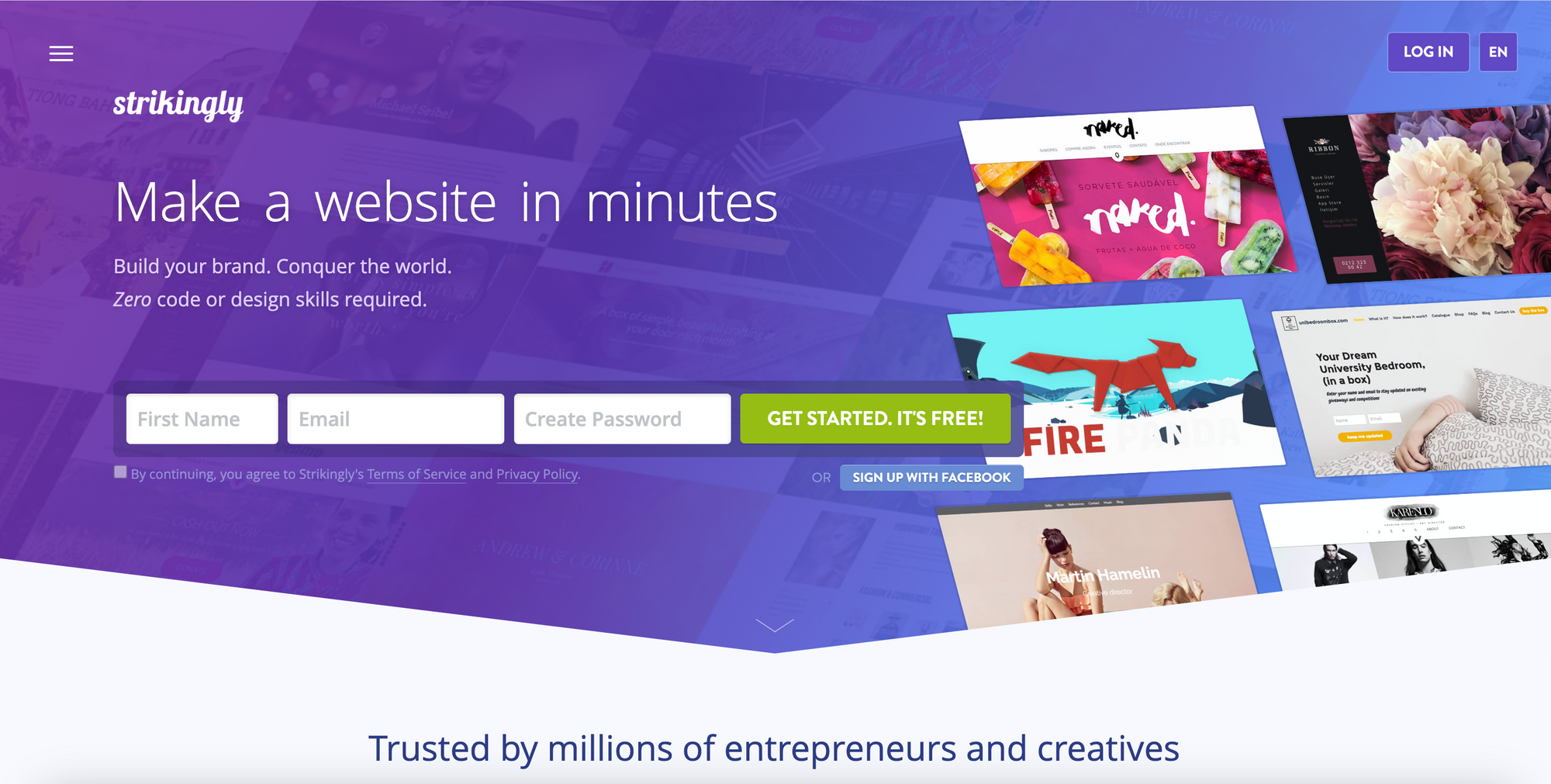 Strikingly is a website builder and e-commerce platform founded in 2012 that has gained popularity for its simplicity and ease of use, with over a million websites created using its platform.
Strikingly offers a range of features that are tailored to help small businesses create professional-looking websites. Some of the key features of the platform include:
Simple drag-and-drop editor: Strikingly drag-and-drop editor allows users to create a website without any coding skills. Users can simply choose from a range of customizable templates, add text and images, and drag and drop elements to create a unique website.
Mobile-responsive design: All Strikingly templates are mobile-responsive, meaning they will look great on any device. This is particularly important as more and more people are accessing websites from mobile devices.
E-commerce functionality: Strikingly offers e-commerce functionality, allowing users to create an online store and sell products directly from their website. The platform supports a range of payment options, including PayPal and Stripe.
Blogging platform: Strikingly also has a built-in blogging platform that allows users to create and publish blog posts directly on their websites. This is a great way to attract visitors and keep them engaged with fresh content.
SEO optimization: Strikingly has built-in SEO optimization features, such as meta tags and descriptions, to help users optimize their website for search engines and increase their visibility online.
Pros:
Best for simple websites with one page, making it easy for beginners to get to grips with the builder.
It has a free plan available but with limited features, which is awesome if you're just starting out and want to explore the platform before purchasing a paid plan.
You can build a website quickly and without fuss.
Excellent customer support, with a knowledge base
Affordable pricing plans start at $8 per month.
Cons:
It isn't suitable for more complex websites
Too basic and it has limited customization tools
Strikingly e-commerce capabilities are limited. You'll need to upgrade to a higher-tier plan if you want to sell more online.
So which e-commerce platform is right for you?
Strikingly and Shopify have their unique strengths, and choosing between the two will depend on your specific needs and budget. If you're a small business looking for a straightforward and affordable e-commerce platform, Strikingly is the better option.
However, if you're a larger business with more complex needs and a more significant budget, Shopify is the better choice due to its more extensive feature set and scalability.