Have you ever received an important message, document or image on WhatsApp that you didn't want to get lost among the other messages? I know I have! Well, did you know that the quickest way to save these messages or media is to send them to yourself?
If you have two WhatsApp numbers, it's easy to forward the content to the other number. But, if you only have one number, you had to create a group by adding one of your contacts and later removing it to create a solo chat on WhatsApp. It was a bit of a hassle, right?
But here's the good news! You don't have to go through all that trouble anymore. WhatsApp has come up with an official method to chat with yourself on the platform which could be used as a To-do list as well, and it only takes a few clicks, so you can easily save those important messages and media without disturbing anyone else.
How to Send Messages to Yourself on WhatsApp
Go to WhatsApp
2.  Tap on the new chat button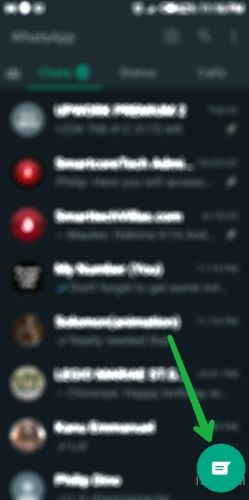 3.  Select Message Yourself (You) from the List.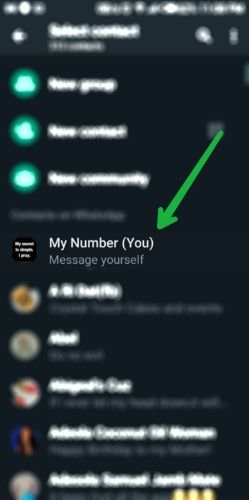 4.  If it's the first time using it, your chat would be empty but if it has been in use by you, you would get to see all the Notes you have written.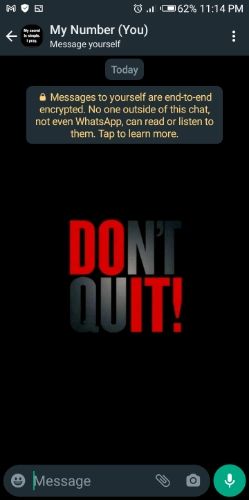 5.  Write a Note or Message to yourself.
6. Then go back to Chats, you would get to see the Notes you made hanging at the front page of your WhatsApp.
Summary
Up until now, if you wanted to message yourself on WhatsApp, you had to create a group with someone, kick them out, and then use that group to jot down your notes.
But this new feature is not just for taking quick notes; you can also use it to transfer files or photos to yourself between your phone and laptop or from one phone to another.
Using WhatsApp to send messages to yourself is an efficient method of keeping track of important reminders, notes, to-dos, and other essential items.