Latin America's smartphone shipments decreased 5.5% YoY in FY 2022 as consumer demand declined due to high inflation, regional political instability, and weak regional currency, according to the latest data from Counterpoint Research's Market Monitor.
In the vendor category, Samsung remained the absolute leader with a 41.6% share, and a share was more than double that of the next competitor. Its leadership is based on its number-one rank in every market in the region.
Motorola's market share was only half of Samsung's market share. Shipment volume and share declined as the brand's entry-level models were in short supply. Xiaomi's market share and volume also declined YoY in 2022. The brand marked its lowest volume since Q1 2021.
Apple's market share in the region increased YoY in Q4 2022 and FY 2022, driven by the iPhone 11. OPPO entered the region's top five brands list in 2022 with Mexico driving the company's growth.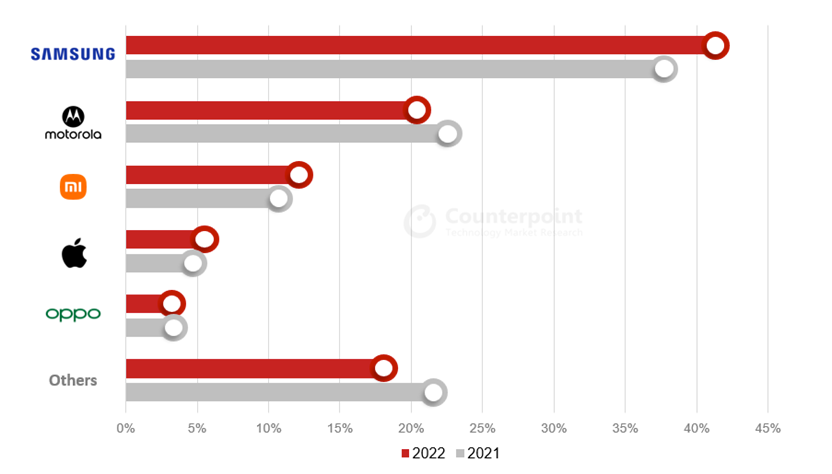 Shipments declined 14.2% YoY in Q4 2022 to mark the region's worst Q4 since 2013. Shipments fell despite the comparatively slow market in Q4 2021, which was constrained by supply chain issues.
The market intelligence group attributed the reason for the fall in shipments in the quarter to high inventory, operators and retailers being conservative in their sourcing as consumer demand was expected to remain weak in Q4 2022 and low consumer demand for smartphones during the FIFA World Cup in 2022 due to increased preference for TV upgrades.