Mexico's mobile handset market, the second biggest in Latin America, reported a 14% YoY sales decline in Q3 2022 – but the country's feature phone sales volume more than doubled YoY in Q2 and Q3, recovering to pre-COVID levels according to a report by Counterpoint.
The report attributed the rise in feature phone sales to the re-entry of i-mobile and Nokia into the market with new devices at attractive price points. BLU, Alcatel, Senwa and Zuum were the leading feature phone players in the Mexican market and together accounted for more than 45% share.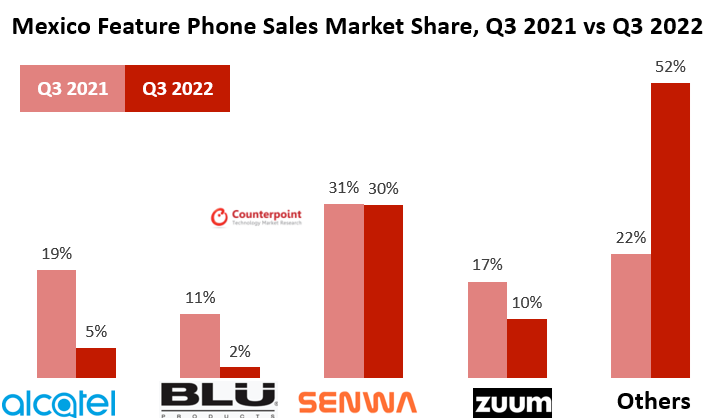 In Q3 2022, Alcatel and BLU were the biggest losers YoY. Alcatel reduced its portfolio to only one model –1066. BLU's only-open-channel strategy ended up hitting its sales. Nokia managed to capture the space thus created with its 106 and 105 2021 models in the <491 Mexican pesos ($25) retail price band.
Senwa saw a mixed performance in Q3 2022. Its Klick series softened the impact of competition in the <491 Mexican pesos retail price band, driven by its performance in the operator channel. On the other hand, devices from the >491 Mexican pesos band were not able to sell as expected.
Local king Zuum was affected by model cannibalization. Newest models like the Brix R II and Fun R series continued with strong sales momentum. But the Brix series suffered the most, leading to the brand seeing an overall YoY decline.
The "Others" category saw a strong performance in Q3 2022 due to Nokia, Doppio and Bmobile's aggressive sell-in volume during the quarter, taking advantage of lower import costs due to a depreciating currency.