Creating an online business or managing an existing online business can be challenging, especially considering that a number of online business management tools are expensive. Most of these tools can also be complicated and because they require technical skills, it could be daunting for non-technical users to set up and manage their online businesses.
Another factor is that several businesses use separate tools to manage different aspects of their online business, such as website creation, email marketing, and payment processing, which can be challenging. Some tools have limited functionality, which means that business owners have to use multiple tools to manage different aspects of their business, leading to further complexity and higher costs.
That's why Systeme was created by French Internet Marketer Aurelien Amacker to provide an all-in-one platform that is affordable, easy to use, and integrates all the necessary tools for managing an online business. The platform, which provides a range of features, including website creation, email marketing, sales funnels, membership sites, and payment processing, all in one place, has made it easier for business owners to manage their online businesses, save time, and reduce costs.
For solopreneurs and digital nomads looking for a tool to assist in establishing a successful online company, Systeme is a more affordable and beginner-friendly alternative to platforms like Clickfunnels, Kartra, and Kajabi which may eventually replace them.
What are the features of Systeme?
Website Builder: It provides a drag-and-drop website builder that allows users to create a professional-looking website without any coding skills. It offers customizable templates, the ability to add unlimited pages, and the option to create a blog.
Sales Funnel Builder: Its sales funnel builder helps entrepreneurs to create high-converting funnels that lead their visitors to take specific actions. It includes templates for opt-in pages, sales pages, and thank-you pages.
Email Marketing: Its email marketing tool allows users to create and send targeted email campaigns to their subscribers. It also provides automation features like triggers, tags, and segmentation to improve engagement and conversions.
Membership Site: It allows users to create a membership site to deliver their digital products or services to their customers. It provides features like drip content, multiple membership levels, and payment integrations.
Affiliate Program: It offers an affiliate program to help users promote their products and services. Users can create their own affiliate program or join other affiliate programs to earn commissions.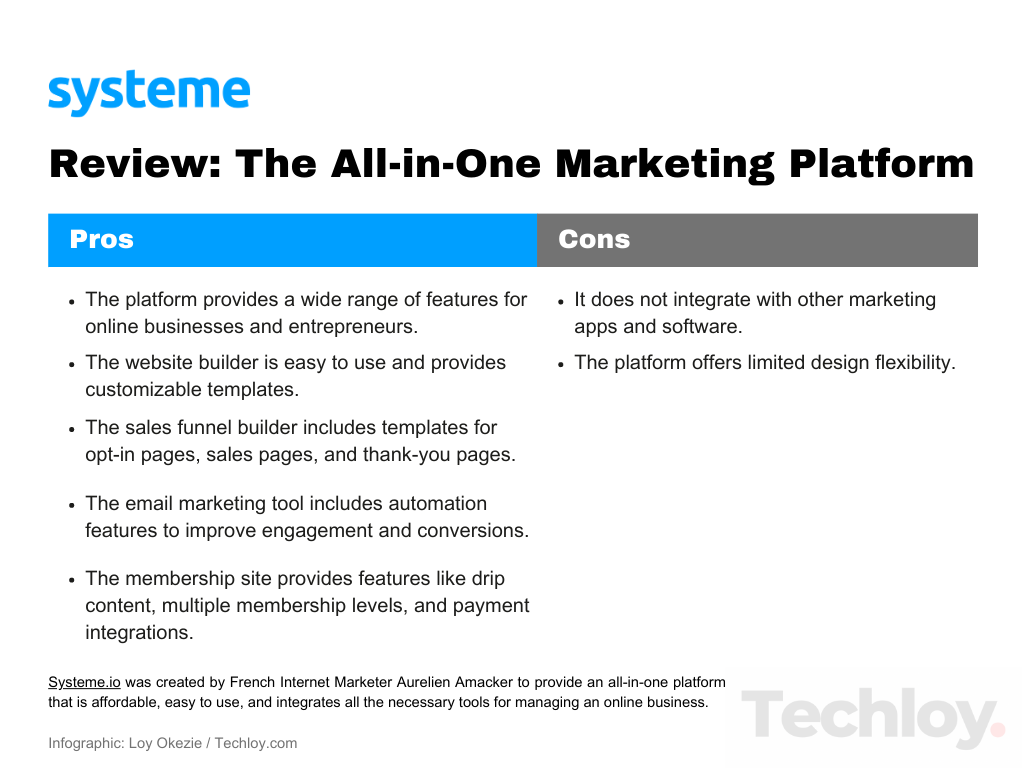 Summary
Systeme is a robust and versatile marketing software designed to assist you in building a thriving online business. This comprehensive marketing platform includes marketing automation capabilities, enabling you to manage your entire online business from one location.
With Systeme, you can effortlessly generate leads, maintain client blogs, host video tutorials and webinars, run affiliate programs, create landing pages, and more. This all-in-one solution eliminates the need for costly software and the potential integration headaches that come with it.
As a solopreneur, your main focus is producing high-quality content and creating exceptional products. Using Systeme.io, which allows you to automate a multitude of marketing tasks with multiple tools working in unison from one central platform, frees up your time to concentrate on what matters most.