Credit Suisse was a Swiss private bank that had long offered wealth management, investment banking and asset management operations to a large number of entrepreneurs, rich and ultra-rich individuals and companies.
It has just over 50,000 employees and 1.3 trillion Swiss francs in assets under management at the end of 2022, down from 1.6 trillion a year earlier, according to Reuters.
With more than 150 offices in around 50 countries, it is Europe's 17th largest lender by assets. It is far larger than Silicon Valley Bank and deemed systemically important to the global financial system.
What led to the bank's demise?
For years, Credit Suisse had continued to battle a string of mismanagement of funds, trading losses and scandals that had saddled it with massive litigation and reimbursement costs, and adversely impacted its financial situation.
Furthermore, the bank's exposure to the collapses of U.S. family hedge fund Archegos Capital and British supply chain finance firm Greensill Capital in 2021 triggered a sell-off in its shares, sending its shares diving.
Leadership changes and appeals to its several scandals including failing to prevent money laundering by a Bulgarian cocaine trafficking gang, hiring private detectives to spy on its former head of wealth management after he left to join a rival bank had little effect in changing the trajectory of its growth performance as it kept trailing its peers. The losses continued to deepen in both the company's earnings and its share price.
In 2023, Credit Suisse reported its clients pulled 110 billion Swiss francs ($119 billion) of funds in the fourth quarter of 2022, while the bank suffered its biggest ever full-year net loss of 7.3 billion Swiss francs for 2022. By this time, Credit Suisse shares had lost more than 75% of their value over the last year.
The financial instability brought about by the collapsed U.S. regional banks Silicon Valley Bank and Signature Bank again hit the bank at the wrong time putting a spotlight on Credit Suisse, although the problems weren't directly connected.
Last week, the bank sought help from the Swiss government after revealing it had found "material weakness" in its financial situation. Its top backer, the Saudi National Bank (SNB), said it could not provide fresh funding as it was constrained by the regulatory cap. This compounded the fall of its shares prices which plummeted to 31% at one point Wednesday last week to a record low of about 1.56 Swiss francs (£1.40) a share.
Credit Suisse was later thrown a $54 billion lifeline by the Swiss central bank last  Thursday to shore up liquidity after the slump in its shares and bonds intensified fears about a global banking crisis. This made Credit Suisse the first major bank to receive such an intervention since the 2008 Global Financial Crisis, however, this failed to stop the bleeding.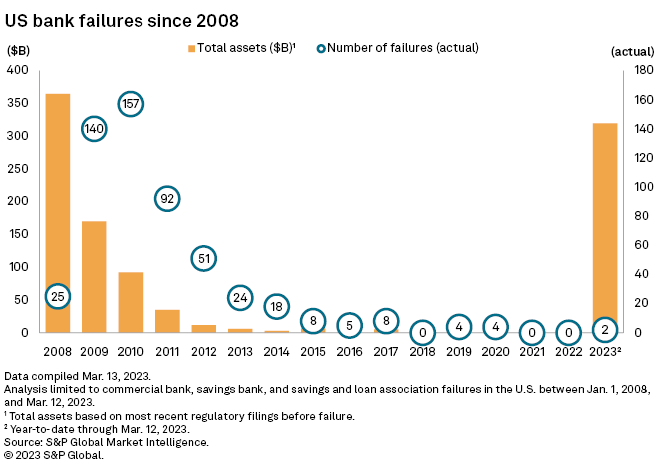 Credit Suisse sale
The sharp and sudden downturn that began last week eventually led to the bank's emergency sale on Monday.
UBS, Switzerland's biggest bank, agreed to buy its embattled rival Credit Suisse for 3 billion Swiss francs ($3.2 billion) on Sunday, about 60% less than the bank was worth when markets closed on Friday, with Swiss regulators playing a key part in the deal as governments looked to stem a contagion threatening the global banking system.
The deal between the twin pillars of Swiss finance is the first megamerger of systemically important global banks since the 2008 financial crisis when institutions across the banking landscape were carved up and matched with rivals, often at the behest of regulators.
According to news reports, Credit Suisse shareholders will be largely wiped out, receiving the equivalent of just 0.76 Swiss francs in UBS shares for stock that was worth 1.86 Swiss francs on Friday. Owners of $17 billion worth of "additional tier one" bonds — a riskier class of bank debt — will lose everything, Swiss regulators said.
With the recent collapse of Silicon Valley Bank, Signature Bank, Credit Suisse, and the shares of Deutsche Bank falling sharply by more than 14 per cent on the Frankfurt Stock Exchange on Friday morning, fuelling fears about a banking sector crisis, many are worried about the impact on the tech industry and the global economy at large.