Information technology (IT) has become an integral part of our personal and professional lives.
From managing networks to developing software applications, IT professionals play a crucial role in ensuring the smooth functioning of various industries.
If you're considering venturing into the world of IT and starting a career in this dynamic field, acquiring new skills and knowledge is crucial to build your confidence. With the rise of online learning platforms, the abundance of available courses can often be overwhelming, leaving you unsure of which one to choose.
To help you navigate this decision, we have compiled a list of the top beginner IT courses that will provide a strong foundation for your IT career.
#1 – IT Project Management for Beginners: A Step-by-Step Guide (Udemy)
If you find yourself drawn to the excitement of project management and have a passion for organizing and leading initiatives, a short course from Udemy can be an excellent starting point for you. This beginner-friendly course offers 32 bite-sized lectures, totalling 2.5 hours of content, covering the essentials of managing a project from inception to completion. Throughout the course, you'll acquire the hard and soft skills necessary for successful project management.
IT project managers play a critical role in organizations, overseeing a range of tasks such as transitioning cloud providers, software development, and network upgrades. This career path presents unique challenges as it requires not only strong project management abilities but also technical skills and a deep understanding of IT concepts.
You can get the course here.
#2 – Information Technology Foundations (edX)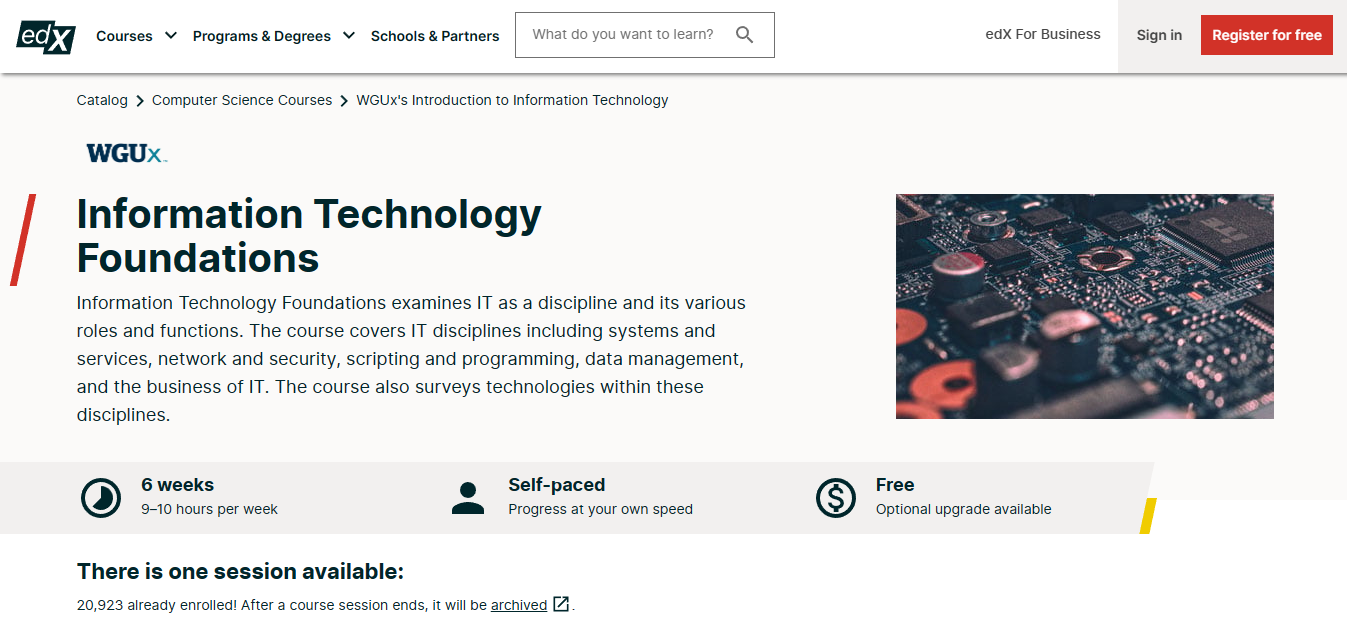 If you're a newcomer to the world of IT and eager to discover the benefits it brings to organizations, look no further than this beginner certification course. Designed to provide a solid foundation, IT Technology Foundations is the perfect starting point for understanding the crucial role of IT in various industries. By enrolling in this course offered by edX, you can become proficient in just six weeks.
Through this comprehensive program, you will delve into the fundamental concepts of IT and gain valuable insights into its applications across multiple sectors. The course content explores how IT systems contribute to business growth, profitability, and productivity. You will acquire knowledge about different administrative roles, project development methodologies, and ethical considerations within the IT field. Additionally, you will be introduced to various technologies relevant to other IT disciplines, including data management, business processes, and network and security systems.
You can get the course here.
#3 – Google IT Support Professional (Coursera)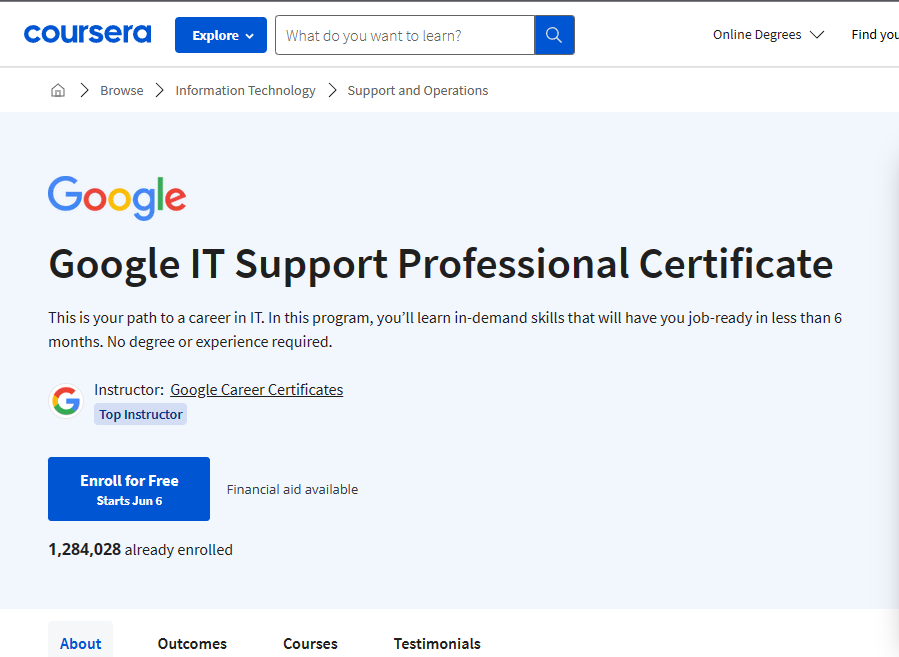 If you believe that your lack of a college degree or prior IT experience is holding you back from pursuing a rewarding career in the field, look no further than Google courses. This comprehensive six-month program is designed to equip you with essential skills that are in high demand within the IT industry. By enrolling in this course, you will gain proficiency in cloud computing, network protocols, binary code, troubleshooting, Linux, domain name system (DNS), and customer service.
This course is specifically tailored for individuals who may feel discouraged or overlooked due to their lack of formal credentials. It provides you with an opportunity to prepare for entry-level IT positions, even if you haven't completed a four-year degree or worked at a tech company. By acquiring this certificate from Google, you will enhance your chances of securing well-paying job opportunities in the IT field, opening doors to a promising career path.
You can get the course here.
#4 – CompTIA A+
CompTIA stands for Computing Technology Industry Association, which is an established American nonprofit trade association founded in 1982. The A+ certification offered by CompTIA is the ideal credential to pursue if you're interested in applying for entry-level IT positions.
CompTIA offers a wide range of benefits for professionals seeking to expand their IT skills and knowledge. The A+ certification course covers a diverse array of topics that will thoroughly prepare you for a successful IT career. These include hardware fundamentals, troubleshooting techniques, computer networking, operating systems, mobile device technologies, cloud computing, and IT security.
By completing the A+ certification, you will gain a comprehensive understanding of essential IT concepts and develop the skills necessary to excel in the field. Whether you aim to advance your current IT career or explore new opportunities, the A+ certification from CompTIA is an excellent pathway to achieve your goals.
You can get the course here.
#5 - CompTIA ITF+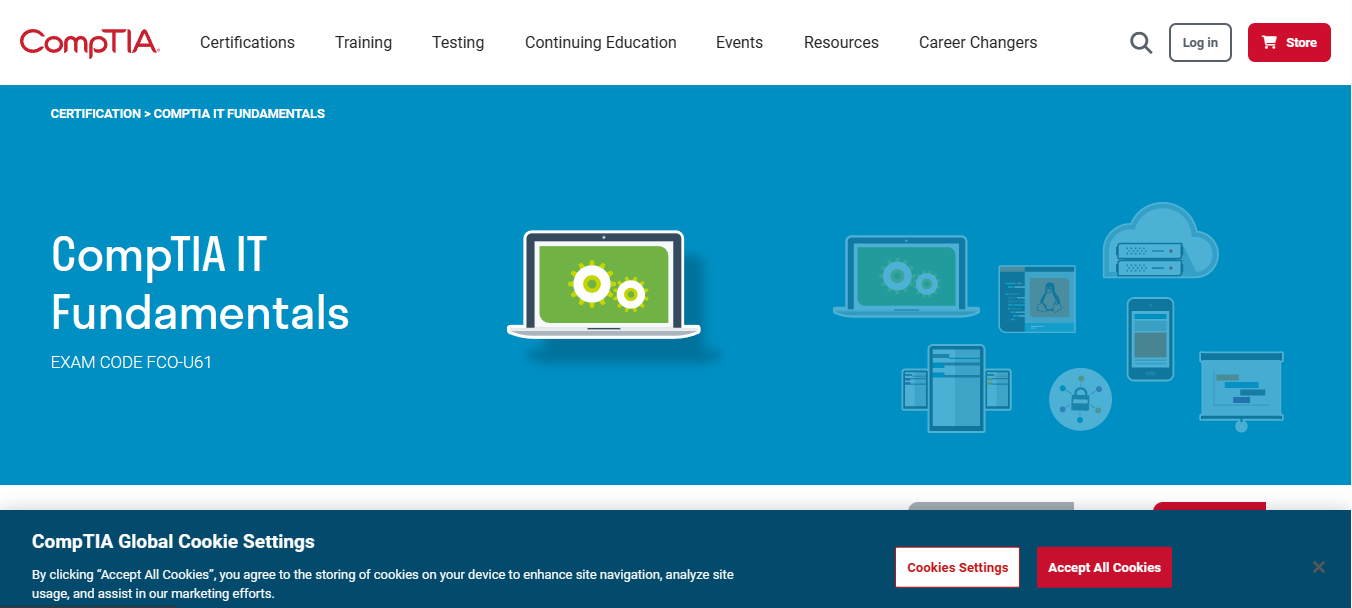 If you find yourself uncertain about embarking on an IT career or contemplating a transition into the tech industry, you're not alone. It's common to feel overwhelmed by self-doubt, especially if you lack technical skills. However, there's a solution that can help you overcome these challenges: the CompTIA IT Fundamentals course.
Designed specifically for individuals in your position, the CompTIA ITF+ course is the perfect starting point to build confidence in your IT skills. Through this program, you will acquire a solid foundation by learning about the features of commonly used operating systems and software applications. The course will also introduce you to essential IT terminology, concepts, and infrastructure, allowing you to grasp the fundamentals of the field. Additionally, you'll gain insights into best practices in IT security, equipping you with the necessary knowledge to ensure the protection of digital assets.
You can get the course here.
Summary
The five courses featured in this career guide cover a wide range of fundamental IT skills and knowledge.
By pursuing these certifications, beginners can acquire a solid foundation in IT concepts. These certifications validate one's proficiency in specific technology areas and enhance employability in entry-level IT roles.
These courses cater to individuals with limited or no prior IT experience, making them accessible and effective pathways for beginners to develop IT skills and gain industry-recognized credentials.