Saudi Arabia's Public Investment Fund is betting $38 billion on the potential of Saudi Arabia to become the next hub for the global gaming industry.
As part of its efforts to diversify its economy, the fund focuses on developing, publishing, and acquiring top-tier games while supporting the gaming industry in Riyadh.
Savvy Games Group, a subsidiary of the fund, had initially focused on the esports industry before deciding to concentrate more on game publishing and development. The fund had already made multibillion-dollar investments in gaming companies such as Nintendo, Tencent, and Activision Blizzard.
The company aims to leverage those investments to build Savvy's business, work together on publishing in the Middle East and North Africa and develop new IP together. Savvy's plans are ambitious in a crowded market where longstanding players like Electronic Arts have been laying off employees.
Nevertheless, there are approximately 21 million gamers in Saudi Arabia, which is about 58% of the population, compared to the United State's 66%. Analysts at Niko Partners expect the games market in the Middle East and North Africa to grow by 56% to $2.79 billion by 2026.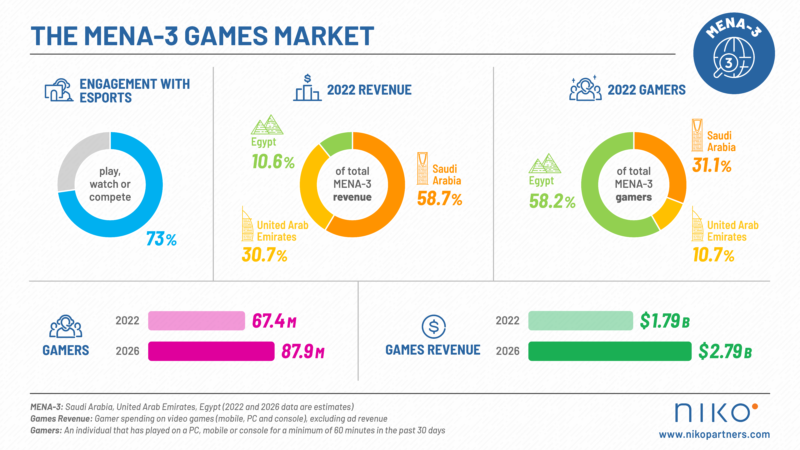 After a boom in 2018, esports faced a reckoning in 2022 as investor and sponsorship funds dried up. Many esports companies experienced layoffs or shuttered, failing to turn a profit on the tens of millions of fans who may watch the events online but spend very little money for the industry.
Nevertheless, Savvy's CEO still has faith in the esports industry's ability to make money by consolidating smaller players. Despite the industry's challenges, Saudi Arabia remains committed to making its mark on the gaming industry by becoming a global entertainment hub by 2030.