Have you heard that Microsoft has teamed up with Snapchat to bring more fun to video calls on its Teams app?
That's right, now you can add Snapchat Lenses to your Teams video calls. With over 20 Lenses to choose from, including a cat on your head or virtual sunglasses on your face, you can add some personality to your video chats.
The best part? You don't need to download a separate app or add-on, as Microsoft has integrated Snapchat's AR Lenses directly into the video effects section of the Teams client. Microsoft has used Snap's Camera Kit SDK to bring these Snapchat Lenses to Teams, and they've also added them to their Flip education platform.
So, if you're looking to add some fun to your work video calls, check out the new Snapchat Lenses in Microsoft Teams! In this article, we will guide you on how to use Snapchat Lenses on Microsoft Teams.
💡
This feature will only be available to Teams for Work users, not those using the personal or education version of Teams.
How to Use Snapchat Lenses in Microsoft Teams
1. Before joining the meeting, click Video Effects then select More Video Effects
2. Scroll down in the right pane and select Snapchat under the Filters category
3. Scroll down to view all and select your favourite Lens
4. Click Join Now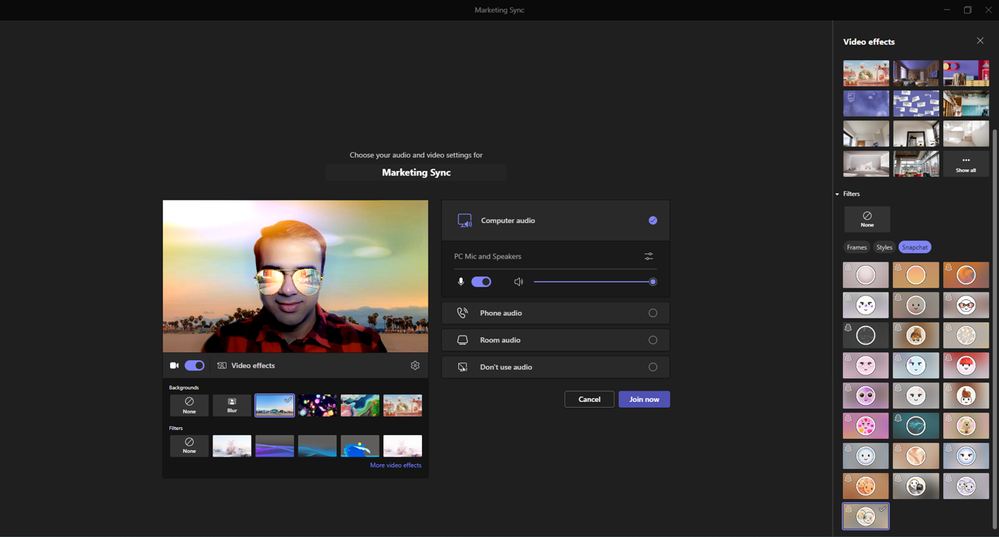 Well, if you're already in a meeting on Teams and want to choose a filter, it's super easy!
Click "More..." at the top of your meeting screen
Click on Video Effect
In the right pane, scroll down and select "Snapchat" under the Filters category
Scroll down to view all and select your favourite Lens
Click Preview to see your selected Lens
Then click Apply
Conclusion
Snapchat Lenses are a fun way to add some personality to your Microsoft Teams meetings. Whether you're trying to lighten the mood or just have some fun, Snapchat Lenses are a great way to do so.
By using Snapchat's augmented reality technology, you can transform your appearance, add special effects, and even change your background. Give it a try and see how it can enhance your virtual meeting.