India's PC shipments (desktops, notebooks, and tablets) surged by 48% in Q1 2022 to a record 5.8 million units, beating the previous record of 5.3 million in Q3 2021, according to data from Canalys.
Despite continuous pressure on the global supply chain, shipments have grown by 44% on average in the last six quarters, thanks to India's success in managing COVID-19, keeping businesses open to a large degree which has created additional demand for PCs and other IT infrastructure.
With 18% of all PCs sold being manufactured locally, analysts believe that the country's focus on self-reliance in PC production is another huge factor in its significant growth in PC shipments.
According to the report, notebooks were the largest category, with 3.4 million units shipped, up 36% year on year; desktop shipments surpassed 880,000 units, a phenomenal 64% increase over Q1 2021. Meanwhile, tablets were the strongest category, with shipments reaching 1.6 million, up 69% from a year ago, largely due to government orders picking up again after a two-year hiatus, reports Canalys.
India now accounts for 5% of global PC shipments as of Q1 2022, a massive 67% increase from Q1 2020.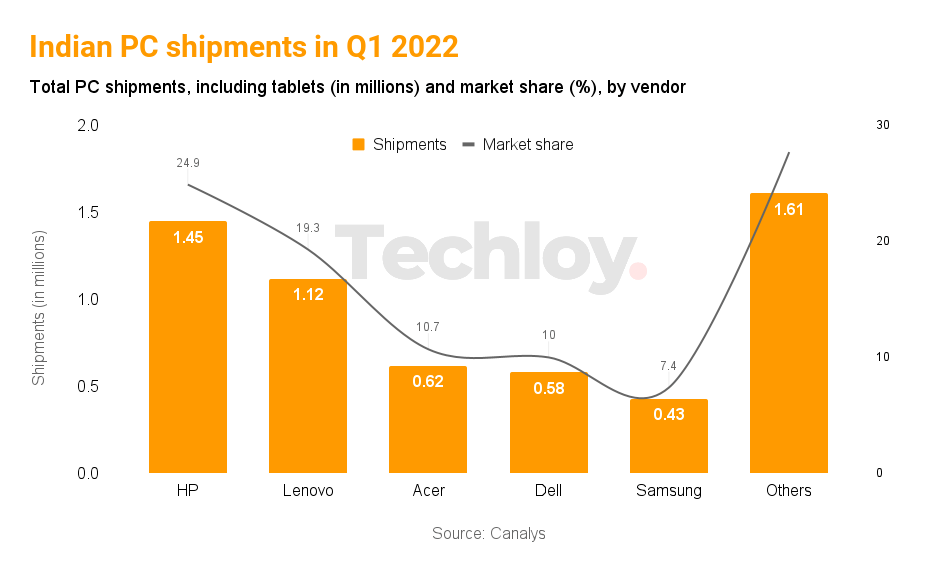 HP took pole position with ease in Q1 2022, commanding a 25% share of the total market and growing its PC shipments by an impressive 42% to 1.5 million units.
Lenovo came second overall (including tablets) in Q1 2022, accounting for 19% of the total PC market with 1.1 million shipments. Lenovo's shipments grew 29% year on year to surpass the 1 million mark for a third straight quarter.
Acer surpassed the 600K mark for the first time in the Indian PC market (including tablets), up by a lofty 256% year on year and 1.7 times more than in Q4 2021, taking 11% of the total market and pushing Dell into fourth place.
Dell finished fourth with just over 580,000 shipments in Q1 2022, accounting for 10% of the total PC market (including tablets) and up by 9% year on year.
Samsung moved up the ranks in Q1 2022 to take fifth place in overall PC shipments (including tablets).
(via Canalys)