The third quarter of 2022 saw global venture funding plunge as investors began to pull back from investing in late-stage startup companies to early-stage companies across the world.
The recent boom in the venture sector has increased venture investments in seed and early rounds. Increasing multiples and higher valuations for tech companies in private and public markets encouraged venture investors to get exposure to early investing, resulting in them dominating seed rounds.
Global venture funding flopped in Q3 driven largely by late-stage funding as North American (US and Canada region)'s late-stage startup investment for the third quarter dropped nearly two third the previous year's level.
As for the European venture late-stage and technology growth funding, this also took a hit in the third quarter of 2022, sliding 42% from the last quarter to $9.2 billion. Deal flow also dropped nearly one-third from last year for the quarter with just 168 late-stage and tech growth rounds closed in Q3, a decline of 18% from last quarter.
The Asian funding market was not left out as the region felt the effects of the investor funding pullback in the late-stage companies. Although the early stage took the most hit in the region, late-stage funding was not far behind as it went down almost a third quarter over quarter and close to half of Q3 2021 funding, to reach $9.4 billion in Q3 2022.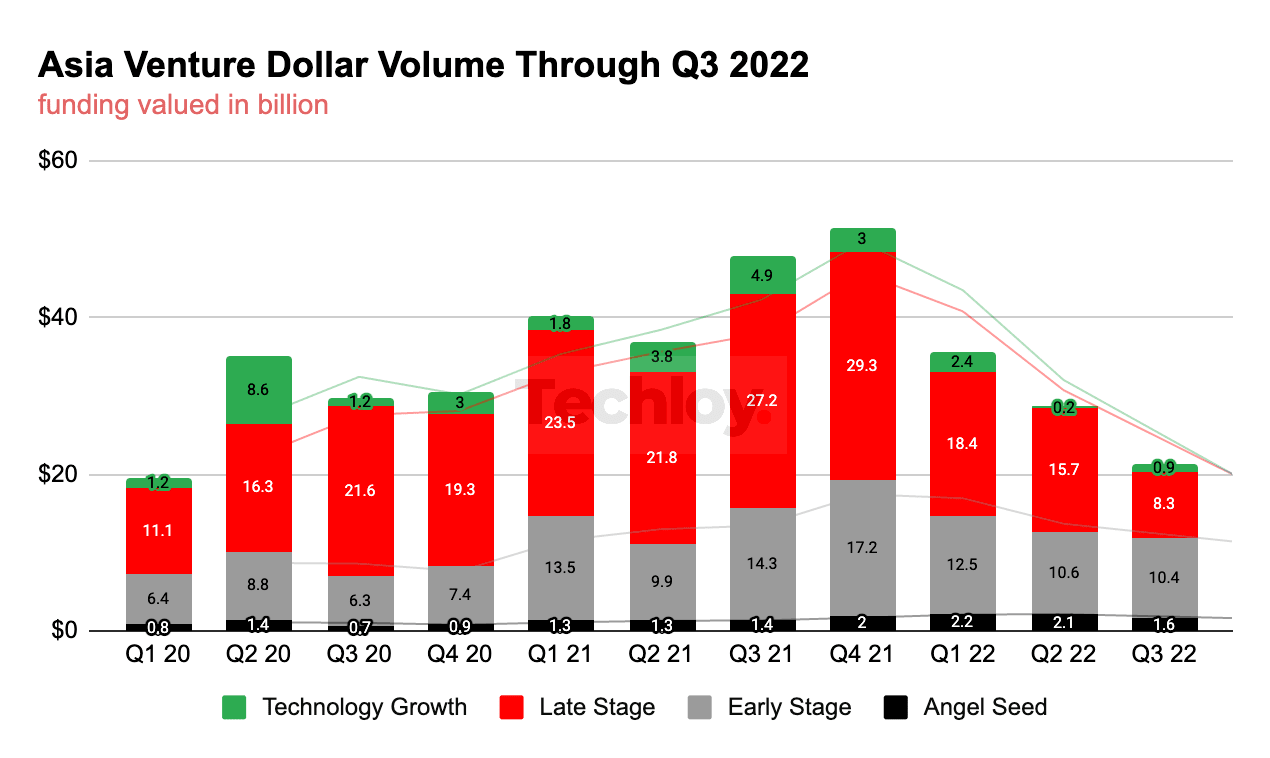 In another report, venture funding in Africa also surprisingly dropped by 54% in Q3 2022. A total of $367 million was raised in Q3 2022, a mouth gaping drop from the $804 million raised in Q3.
While late-stage companies may be feeling the squeeze to raise additional capital in the private markets or look to other exit avenues, with the IPO window shuttered and public markets increasingly emphasizing profitability.
Venture investors moving to early-stage funding offers potential for astronomical growth and outsized returns for both investors and early boomers, relative to larger and more mature companies).
- Emmanuel, Data Journalist at Techloy.com
📌
The Draft
is a weekly series that brings you the most important technology news and deals across emerging markets, every week-end. Subscribe today or continue reading to find other top
stories
and deals we tracked this week across emerging markets and the rest of the world.
This post is for subscribers only
Sign up to read the post and as well as all other member only posts. Subscribing only takes a few seconds and will give you immediate access.
Subscribe now
Already have an account?
Log in