☕
Techloy Weekly
(formerly The Draft) is a data-focused newsletter providing news and insights into technology across the world's largest emerging markets from trusted sources. If you're not already a member,
join today
.
As someone who has been following the journey of Lazerpay, a crypto startup founded by a 19-year-old Nigerian entrepreneur in 2021, its demise is a particularly sentimental one for me.
This week, the young crypto payment startup described as the "Stripe for Crypto", suddenly met an early demise on its mission to drive financial inclusion and interoperability in Africa after a funding drought saw the company cutting staff and consequently closing up shop.
Co-founder and CEO Njoku Emmanuel in a company update conveying the sad news explained that the unstable funding environment was one of the reasons that ultimately led to the sunsetting of the stablecoin platform. The company's proposed funding deal had fallen off late last year after the lead investor abruptly pulled out.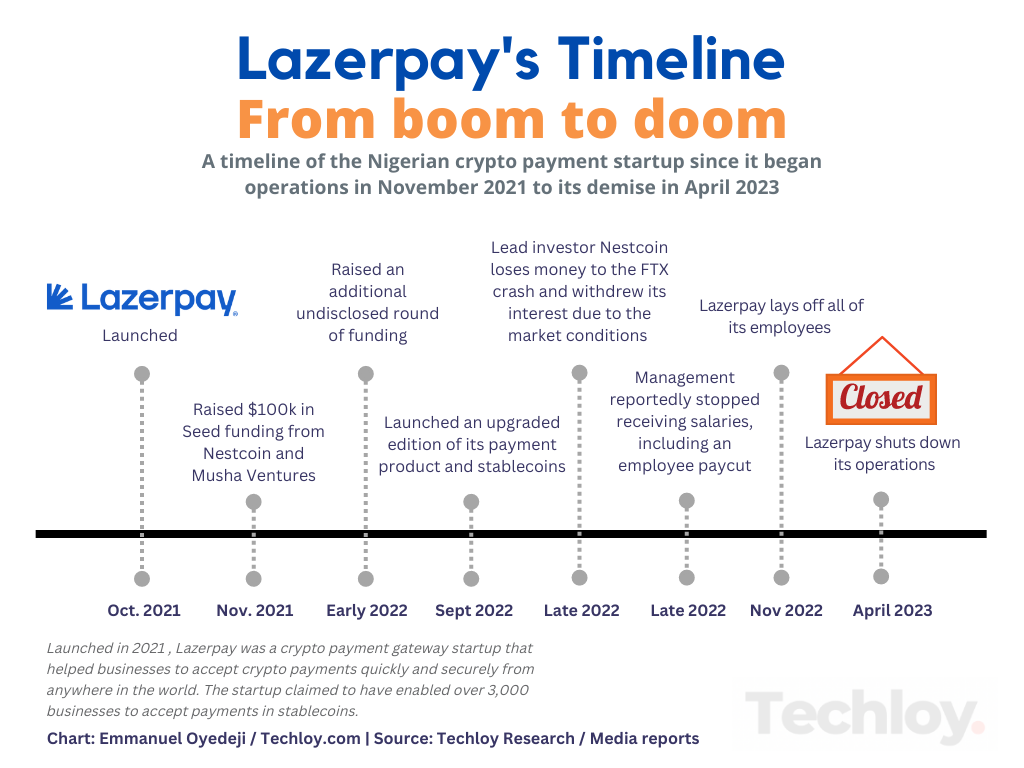 This development is not very far from the global funding winter that has not left the African continent at its jaws, particularly in the crypto landscape. According to an Africa: The Big Deal report, funding to African startups saw a -29% YoY decrease (- 52% YoY if we exclude exits) in Q1 2023.
FTX's collapse late last year also did a little damage to the already crippled space for crypto startups in the continent. In fact, one of Lazerpay's major backers, Nestcoin, was exposed to the FTX fallout that left it bankrupt. There are even speculations that it might have been Lazerpay's proposed lead investor that "ditched" the fundraising because of its collapse, although Techloy can not authoritatively confirm this report.
While startups in Africa raised more than $1.3 billion in Q1 2023 (including exits), the continent's best quarterly funding result since the start of the meltdown in mid-2022, it seems that the impact of the freezing-cold venture funding season from last year could linger for a while.
– Emmanuel
A look at the Global Venture Funding in Q1 2023
Find out how investors continued to scale back their investment pace in the last quarter.
READ MORE
This post is for subscribers only
Sign up to read the post and as well as all other member only posts. Subscribing only takes a few seconds and will give you immediate access.
Subscribe now
Already have an account?
Log in