If you've ever secured a rented apartment in Lagos, you'll agree that it can be a long, painful and intricate process.
This is true, especially with the bureaucratic way in which Landlords demand exorbitant rental fees for one or two-year periods, coupled with the associated agreement/agency fees which are usually demanded from some of the Landlords, even though they are letting their property without the help of real estate agents.
For years, tenants in Nigeria have been unable to access affordable housing with flexible payment options as it is done in developed countries where monthly payments are accepted for apartment rentals.
According to the Federal Authority Mortgage Bank, the property market in Nigeria is in crisis due to the default rate on rented properties which had risen to 71%, and the vacancy rate to 74% in prime property locations.
That's why RentSmallSmall.com is launching first in Lagos, before expanding to other cities, in order to eliminate the complexities that are associated with finding suitable, affordable apartments in Nigeria.
"Our business model works in a way that landlord gives us the base rent of the property on annual basis and then we mark it up by a certain little percentage and with that markup, we break it down into monthly payments. The landlord gets 92% of the rent while we take 8 percent," says Tunde Balogun, CEO & Co-Founder, RentSmallSmall.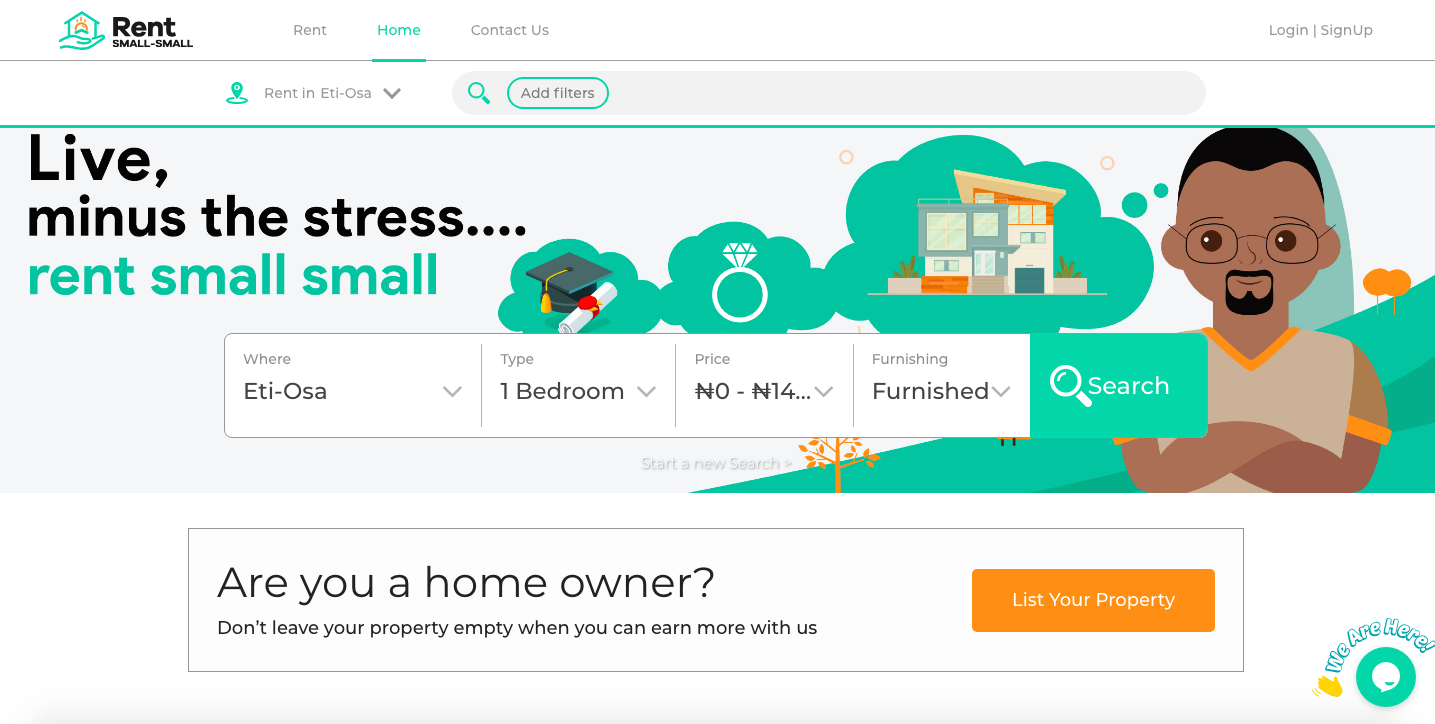 The RSS model provides a win-win approach to both landlords and tenants. For example, landlords who use the platform benefit from high property visibility verified tenants that are covered by insurance and a regular income throughout the year.
Apart from offering an affordable and flexible payment option for as low as N50,000 per month (say for an N600,000 per annum apartment rental fee), the model provides tenants with insurance coverage that protects their contract with the landlord in case of their inability to pay rent as at when due, perhaps because of job loss, critical illness or accident.
For now, the platform features only a handful of properties for rent in the Eti-Osa and Lekki peninsula areas of Lagos State. I asked customer service personnel if there were properties for rent in Yaba, but got the response:
Currently we do not have apartments on the mainland. However we are working getting properties on the mainland and expanding across the country.
The startup is currently working with selected agents such as Estate Link, Nedcomoaks and Rydal News Ltd, and has also partnered with Furnisure Nigeria to provide ''Rent to own'' appliances and furniture for tenants to acquire furniture and appliances of their choice and make flexible payments.
Balogun, who graduated from Stanford University with a degree in Business Administration, said that the platform was borne out of a need to disrupt the market which has offered an impractical and inflexible model for renting apartments in the country.
"When I moved back to Nigeria in 2015, I was told to pay for one year in advance, and agent and agreement fees separate. Knowing that these are not the norms in any sane system, l was resolved more strongly to do something about it as fast as possible," he told Techloy.
"Few years down the line, I met with my partners and we wanted to solve the problem and change the market; that's how we came up with RentSmallSmall.com and launched fully in October 2018," he added.
He believes that in the coming months, the RSS model would be replicated in other states in the country as well as other African countries that currently do not operate this scheme.