According to Africa: The Big Deal, nearly 1,500 investors have been involved in at least one deal in Africa in the past couple of years, and that's excluding angel investors.
There are however some investors that have contributed to the growth of the African startup ecosystem in the past two years (2021-2022) on a whole different level. In this article, we take a closer look at VCs that have signed at least one deal a month on average based on data collected by Africa: The Big Deal.
According to the report, Launch Africa was the most active investor in terms of deal count in 2021 and repeated the feat in 2022. With more than a deal signed every week on average, the company has the widest geographical spread and got involved in 12% of all equity deals between $100k and $10m that happened on the continent in the past couple of years.
Flat6Labs made a total of 86 deals but was the only VC that focused exclusively on one region; Northern Africa (with 2/3 in Egypt and 1/3 in Tunisia), while international VC group, Y Combinator continued to grow its presence in Africa in 2021-2022; 2/3 of its 2022 investments were focused on Nigeria (vs. 38% in 2021).
LoftyInc also made more than three $100k+ investments a month on average during the period, almost half of which were in Nigeria. For both Techstars and Future Africa, every other $100k+ deal was in Nigeria.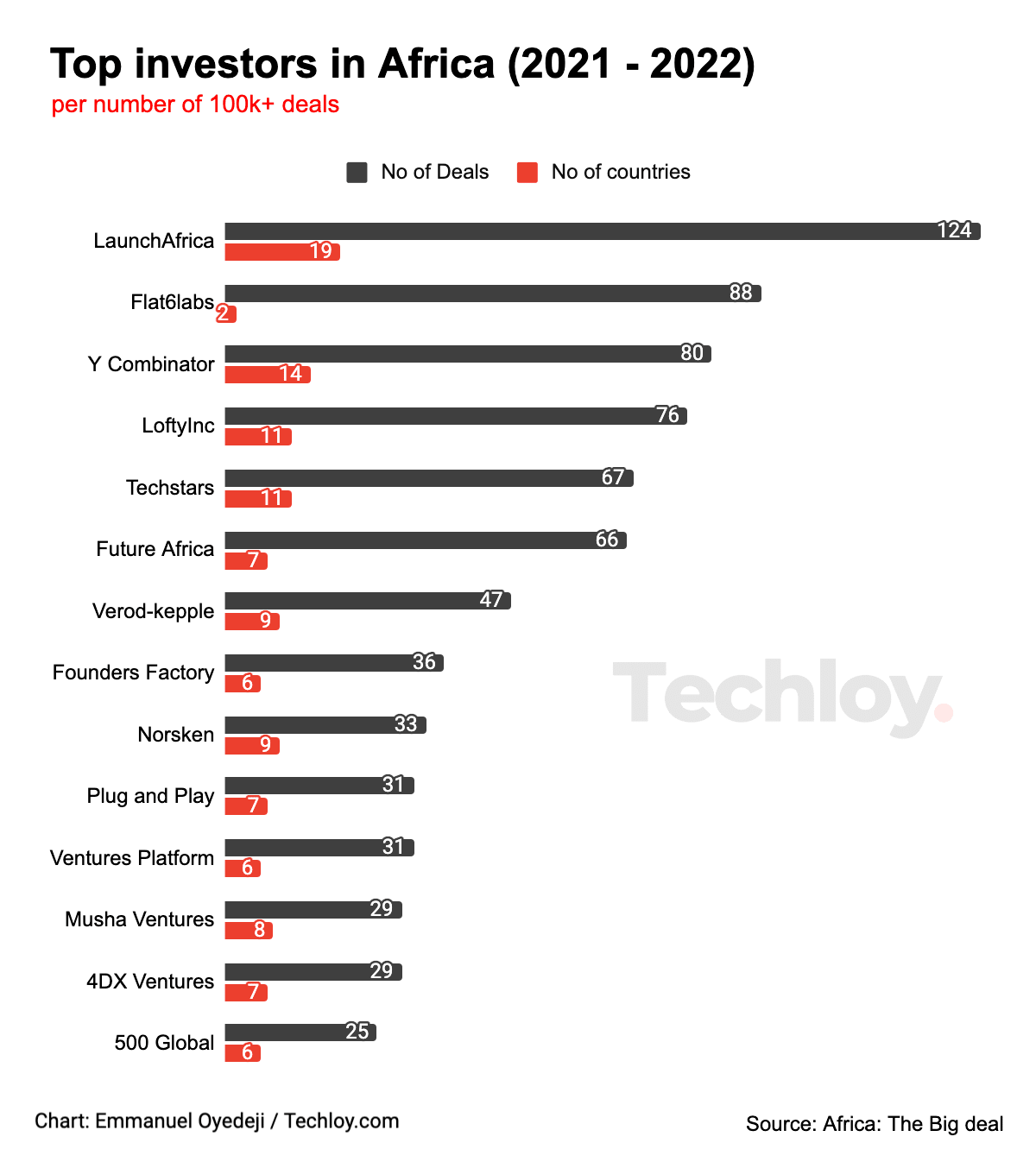 All the listed active investors besides Flat6Labs have been active in at least three of Africa's five regions. Most of them (8/14) have made at least one $100k+ investment in four regions. Launch Africa, YC, LoftyInc and Plug and Play have invested in all five.
However, most of the active investors focused more of their investments on the "Big Four" – that is, Nigeria, South Africa, Egypt, and Kenya – with only 25% of the total deals between 2021-2022 going to startups outside the "Big Four". Norrsken was the investor that invested the most in 'the rest of Africa', with 45% of its deals there.
On the gender front, the majority (9/15) did worse than the overall average in terms of investing in female-led start-ups (14% of overall deals in 2021-2022). Techstars was the one that performed the best (21%) while two investors on the list didn't back a single start-up with a female CEO during the period.