In a bid to reduce reliance on the U.S. dollar and forge a united front to challenge America's dominance in the global political and economic landscape, leaders from five nations across continents, together representing nearly 50% of the world's population, have convened in Johannesburg, South Africa for the 15th BRICS Summit.
The primary focus is centered on the potential expansion of the group, encompassing critical topics such as trade and investment facilitation, sustainable development, innovation, and reforms in global governance.
But a key highlight of the BRICS Summit 2023 will be discussions on the group's controversial proposition of a new, gold-backed joint currency reflecting their aspirations to diversify away from the dominance of the U.S. dollar.
On a global stage, the outcome of the South Africa summit will be closely monitored, as it is poised to shape the future trajectory of global economics as we know it.
What are the BRICS countries?
BRICS is an acronym for the growing alliance of emerging-market economies currently consisting of five countries: Brazil, Russia, India, China and South Africa. These nations are allied with a united goal of contributing to the global economy.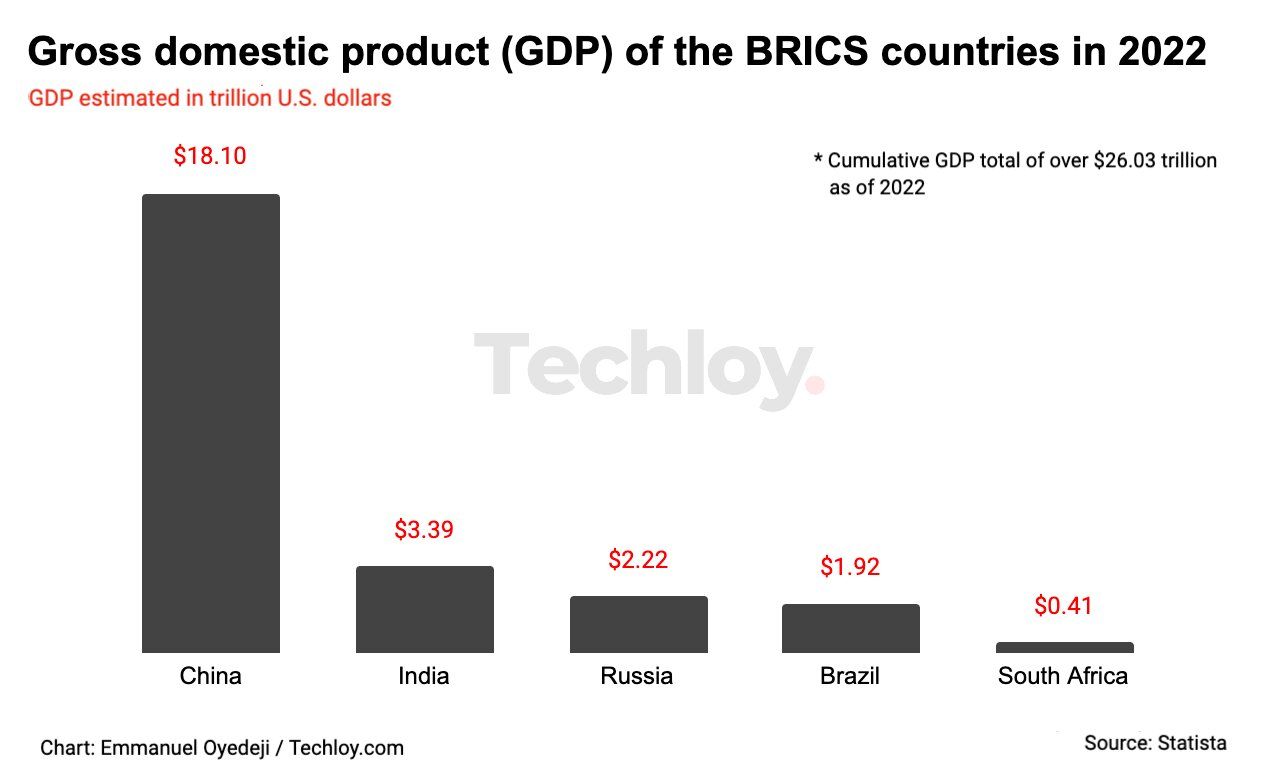 What is the BRICS countries' total GDP?
In 2022, their combined cumulative GDP total reached $26.03 trillion USD, as the Techloy chart above shows.
Collectively, BRICS accounts for approximately one-third of the world's economic activity (that is, 32.1% of global GDP this year, according to the IMF) surpassing the combined global GDP contribution of the G7 countries (estimated at 29.9% in 2023). This underscores a significant step in its journey towards becoming a dominant force in the world economy.
Notably, the group, inclusive of members with strong anti-Western stances, has openly positioned itself as a geopolitical rival to the G7 – a coalition comprising advanced economies, namely the U.S., Canada, France, Germany, Italy, Japan, and the U.K.
What countries are interested in joining BRICS?
Interestingly, more than 40 countries globally have expressed their interest in joining BRICS, including influential economic hubs like Saudi Arabia, the UAE Indonesia, Egypt, Ethiopia, Iran, Argentina, Nigeria and others, with 22 countries having submitted formal applications. They anticipate that membership will yield greater economic benefits compared to the prevailing Western economic and trade model.
This expanding coalition highlights the growing influence of BRICS on the international stage and its potential to reshape the future of global finance.
But despite the promising potentials surrounding the trajectory of the group, the BRICS countries still have to navigate several complexities like the agreement on a new trade currency and geopolitical conflict by members within the group, charting the future course of the BRICS collective.