GIF, which stands for Graphics Interchange Format, is a type of digital image file that is popularly used on the internet. Unlike static images, GIFs can be animated and are commonly used to create short, looping clips of video or animation.
GIFs have become a popular form of online communication, with users frequently using them to express emotions, reactions, or humour in social media posts, chat messages, and emails. GIFs can be created using a variety of software and online tools, and many popular websites, including Giphy and Tenor, offer large collections of pre-made GIFs for users to browse and share.
While GIFs are a relatively old file format, having been first introduced in 1987, their popularity has endured, thanks to their versatility, simplicity, and widespread compatibility with web browsers and mobile devices. Today, GIFs continue to be a fun and engaging way for people to express themselves online.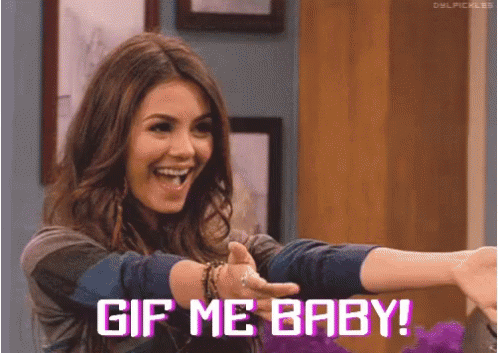 How to turn a video into a GIF on iPhone
Go to your Shortcuts app on your iPhone
Search for 'Video to GIF while in the Gallery tab, then Tap Add Shortcut in the result provided.
Run the shortcut by tapping its card in the My Shortcuts tab.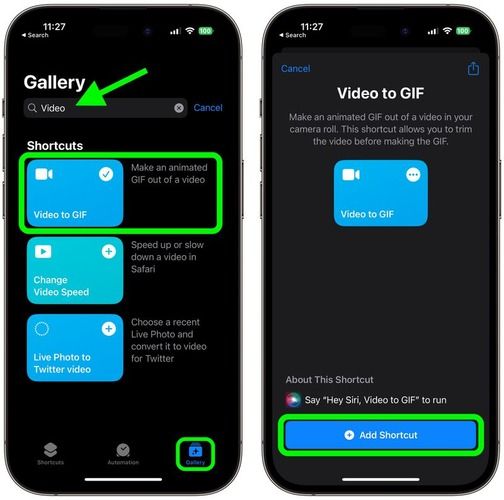 4.  You would be shown a list of videos from your photo library. Choose the clip that you want to convert to a GIF.
5. You can trim the video if it's too long,  After that, tap Save.
6.  Tap the Share button below the preview to Save Image. Once you're finished, tap Done.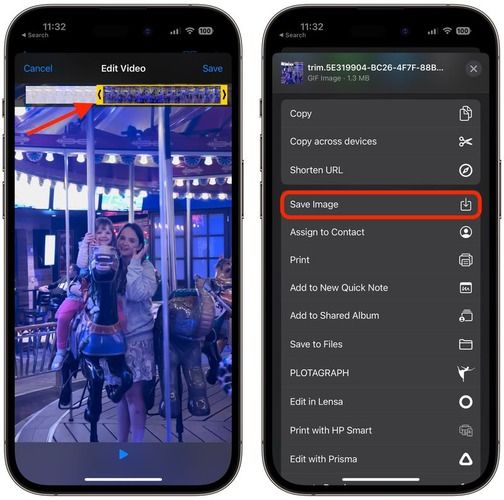 GIFs make conversations feel alive and active. They typically have a small file size compared to other image or video formats, which makes them easy to share and load quickly on the web.
If you plan on having more control when making your own GIFs, you could try out some GIF creation tools such as GIPHY which is free to download and includes additional options including effects and stickers that could be applied to your creations.
Image Credit: Macrumors.com