The IoT* landscape is expected to grow in 2023, according to a published annual IoT Predictions for 2023 by TechInsights, highlighting technological and strategic trends expected in the IoT space in 2023.
According to the report, the shift in IoT connectivity technologies is set to continue in 2023. 5G is expected to pick up growth in 2023/24 as the market will see the commercial launch of 5G RedCap (Reduced Capability) modules.
With 5G currently accounting for 2% of the total IoT connections, it is expected that the commercial launch of RedCap will boost IoT expansion in 2023 and really take off after 2025 as it reduces the complexity and cost of IoT devices enabling 5G-related features.
In the report, eSIM (including iSIM) is expected to account for more than 50% of the total IoT module sales in 2023. The sales of eSIMs for IoT applications will grow from 190 million in 2022 to 978 million by 2030 at a CAGR of 23%.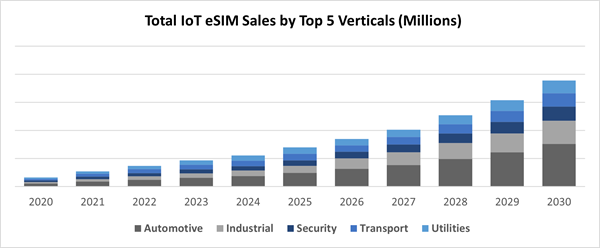 In the outlook for strategic trends included in the report, market consolidation will continue to increase within the IoT ecosystem while the merger and acquisition trend will be relatively consistent with the previous year. It attributed this to the intense fragmentation in the IoT market currently. Google and Ericsson shuttered their IoT Core businesses in 2022.
The report also included that IoT will drive sustainability in the year and beyond, as it becomes a top priority for CxOs across the industry. IoT continues to be one of the significant technologies supporting organizations to achieve their sustainability targets.
*Internet of Things (IoT) refers to the collective network of connected devices and the technology that facilitates communication between devices and the cloud as well as between the device themselves.