Although MediaTek revenues fell 8.7%, revenues generated by the chip manufacturer increased 8.5% YoY to NT$142.1 billion in Q3 2022. However, on a USD basis, revenues were comparatively flat due to the strong US dollar and foreign exchange weakness of the New Taiwan Dollar, Counterpoint reported.
The revenue decline and weak outlook have been attributed to global macro headwinds, inventory correction, the slow China market and weak consumer demand.
The chip manufacturer caters to three market segments, namely; the smartphone, the Smart Edge and Power IC segment, this is how each segment contributed to the total revenue:
Although the smartphone declined 8% QoQ in Q3 2022, it contributed to 55% (NT$ 78.2) of MediaTek's total revenue in Q3 2022. Smartphone segment demand was affected by customers' inventory adjustments, especially in the 5G mid-range SoCs. Demand for LTE SoCs was strong in QoQ terms.
The Smart Edge segment contributed 38% (NT$ 53.96) to the company's revenue in Q3 2022 but declined 9% QoQ as telecommunication operators cut back on orders, negatively impacting the company's Wi-Fi and wired businesses. Also, the consumer market weakness affected the tablet, Chromebook and monitor businesses.
The power IC segment accounted for 7% (NT$ 9.94) of MediaTek's revenue in Q3 2022. It, however, declined 17% QoQ due to weak demand for power ICs in consumer devices such as smartphones and PCs.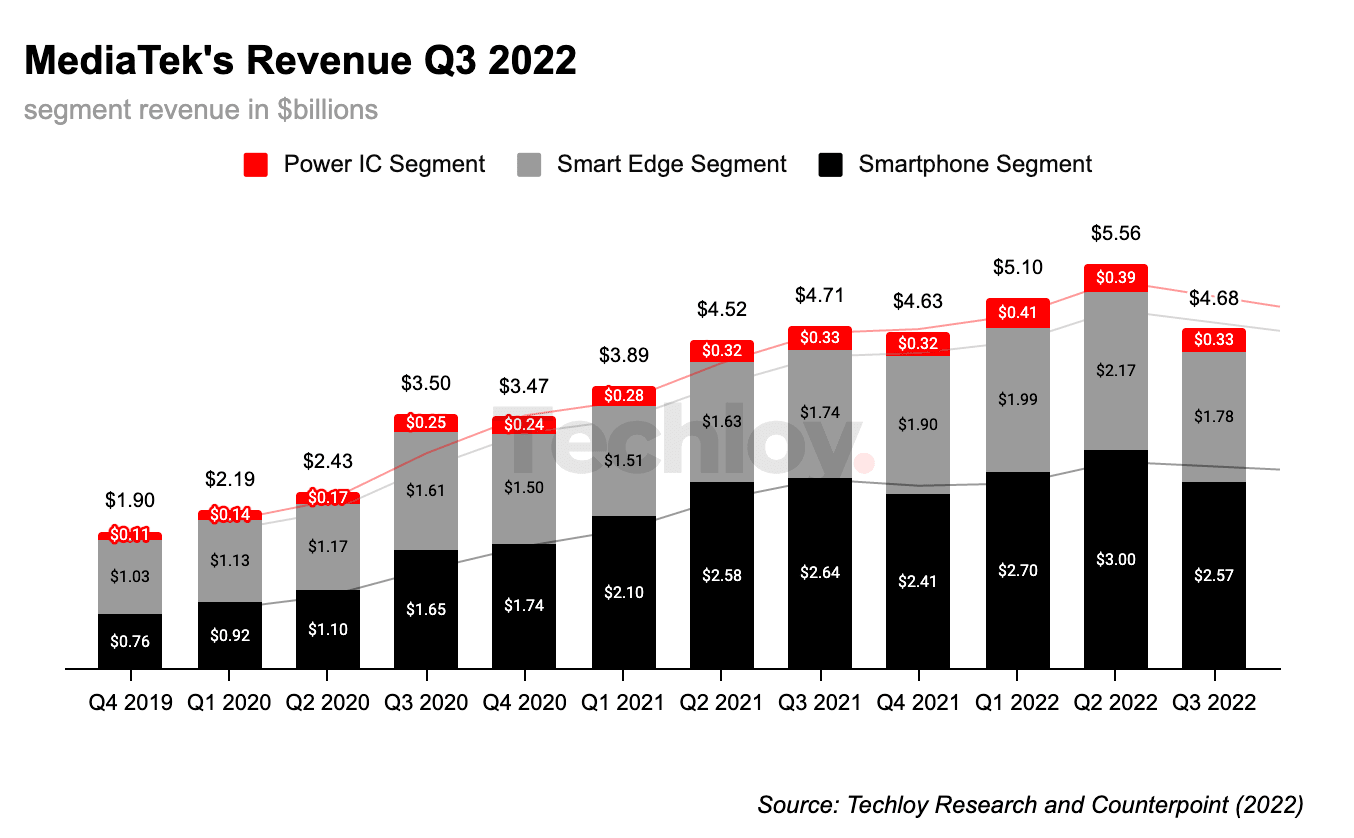 Although MediaTek dominated the smartphone AP/SoC market in Q3 2022 with a share of 36.5%, followed by Qualcomm. MediaTek shipments have declined due to order cuts from major Chinese OEMs. With the current macroeconomic headwinds, the outlook for the fourth quarter is even weaker.
The outlook for 2023 also looks challenging after inventory corrections due to macroeconomic uncertainty and the weak China market.