Initially announced earlier in March 2023, Copilot is finally ready to ship, signaling a new era of enhanced user experience for Microsoft users.
During its Surface and AI event held Thursday, Microsoft officially unveiled its new baby Copilot, an AI assistant which is replacing Cortana.
But it is not just what it is, it is what it really does that matters.
According to the company, it is integrating the new AI assistant across its extensive portfolio of services including Windows 11, Edge, Microsoft 365 and its search engine Bing.
Tagged as "your everyday AI companion," Microsoft Copilot, which is powered by OpenAI's GPT-4, will uniquely incorporate the context and intelligence of the web, your work data and what you are doing at the moment on your PC to provide better assistance – with your privacy and security at the forefront.
Satya Nadella, Chairman and CEO of Microsoft, noted at the event that the artificially intelligent assistant would fundamentally change personal computing by allowing people to converse more freely with their devices in their "natural language".
Copilot will be able to pull data from your calendar, email, documents or any app to analyze your context and content and help you quickly draft texts or emails. It will also provide instant recommendations, streamlining your workflow and saving you valuable time.
Starting on September 26, Windows 11 users can look forward to Copilot rolling out as a free update, after which it will be available in Bing Search, Edge, and other services in October.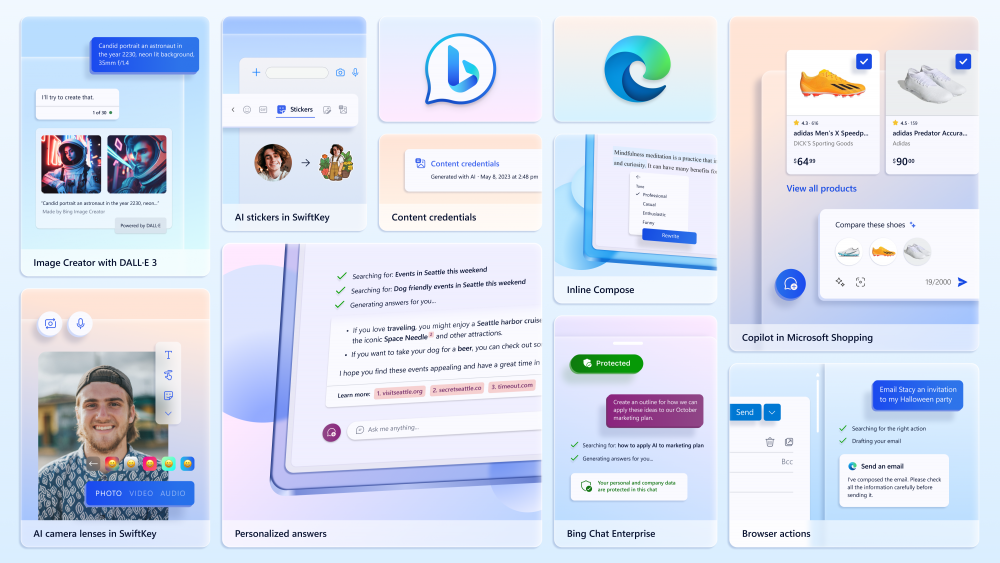 In addition to Copilot, Microsoft also unveiled its latest Windows update with over 150 new features, bringing the power of Copilot and new AI-powered experiences to apps like Paint, Photos, Clipchamp and others.
Microsoft also launched the latest versions of its hardware lineup, including the Surface Laptop Studio 2, Surface Laptop Go 3, and Surface Hub 3.
The company's partnership with OpenAI also brings exciting development, as it plans to give users access to OpenAI's DALL-E 3 image generator in its Bing Chat app allowing users to be able to create images directly within a chat.
As Microsoft continues to innovate and integrate AI across its ecosystem, the move promises a more seamless, efficient, and personalized experience for its users and further establishes the company's dominance in the AI technology landscape.