In a groundbreaking moment for the Nigerian public market, MTN Nigeria, the largest telecom company in the country by subscriber base, has reported record-breaking revenue growth in its 2022 financial report.
The company recorded a staggering ₦2.01 trillion in revenue, a 21.6% increase from 2021, and ₦358.88 billion in profits after tax, an 18.3% increase from the previous year.
The company's revenue has grown impressively over the past five years, crossing the ₦1 trillion mark in 2018 and doubling in revenue within the same period, making it the most profitable company in Nigeria according to publicly available financial records.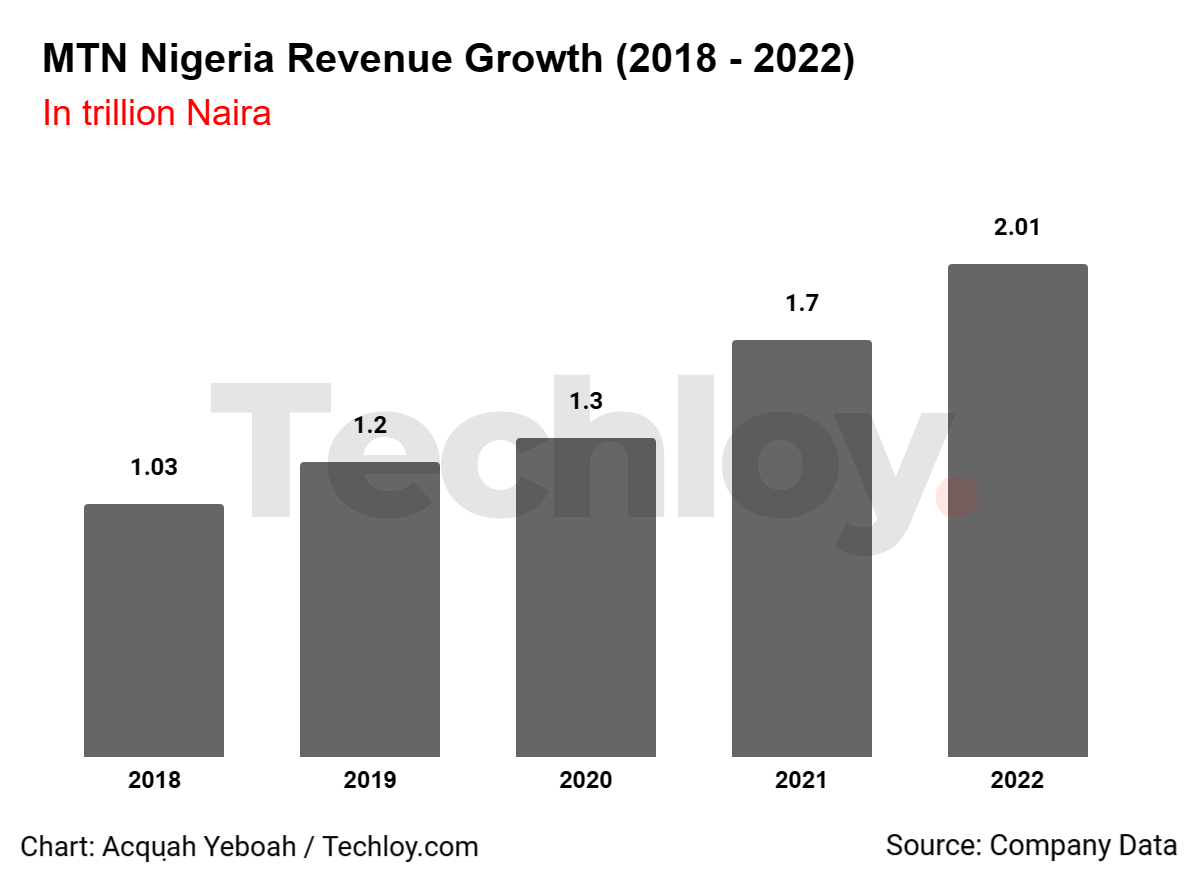 MTN saw growth in all segments of its business. The voice segment, the company's largest revenue source, saw a 5% increase to ₦864 billion, while the data segment saw a remarkable 38% increase to ₦763 billion. This continues the steady growth in data services, which brought in ₦332 billion in 2020 and ₦516 billion in 2021, potentially setting the stage for the segment to cross the ₦1 trillion mark in the near future, especially with the advent of 5G technology.
Roaming services also reported a 14% increase in revenue to ₦159 billion, and value-added services, including airtime lending and mobile money, saw a 16% increase to ₦81 billion. SMS services reported a 31% growth to ₦63 billion.
This revenue growth is largely attributed to MTN's growing subscriber base, with a 9.7% increase to 74.1 million mobile subscribers and a 14.6% increase to 38 million active data users by the end of Q3 2022. The company's fintech subscriber base also saw a boost, reaching 11.2 million subscribers, with 1.8 million active MoMo wallets just seven months after launching the service.
As Nigeria's largest telecom operator, serving over 33% of the country's population, MTN's financial report further solidifies its position as a market leader.