Shein, the Chinese online fashion group, is projecting its revenue to more than double to almost $60bn by 2025. The company aims to convince investors that it is on track for a successful initial public offering this year.
According to a management presentation recently shown to investors and seen by the Financial Times, Shein is targeting annual revenue of $58.5bn in 2025, up from $22.7bn last year. If the target is achieved, it would exceed the combined annual sales of retail giants H&M and Zara.
Shein is also projecting that gross merchandise value, the total value of merchandise sold on its platform, will grow to $80.6bn in 2025, a 174% increase from last year.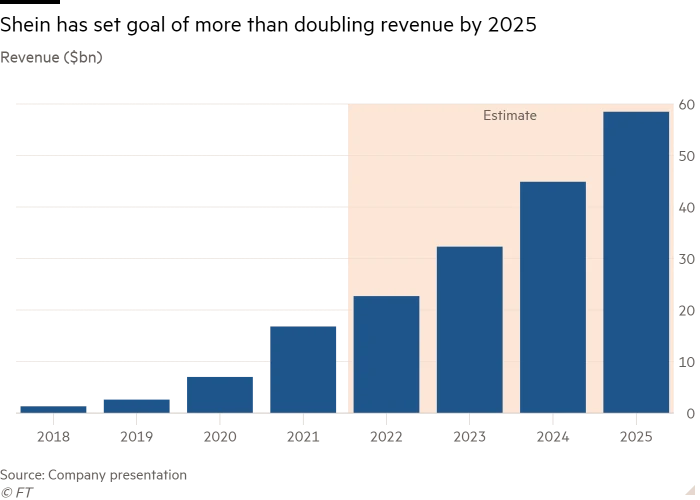 The company, which has become the shopping destination of choice for Generation Z consumers in the West, plans to launch one of the largest-ever listings of Chinese companies in the US this year.
However, analysts warn that Shein faces challenges to alter sales patterns to meet its revenue goals, in particular by gaining more repeat customers and selling more diverse and expensive clothing lines.
It has its headquarters in Singapore and a target audience of younger shoppers who have shown little brand loyalty in the past. Shein said it does not comment on market speculation as a private company.