For decades, female directors have faced an uphill battle in the male-dominated mainstream film industry, often relegated to the sidelines in the realm of high-grossing movies. This narrative, however, is undergoing a remarkable shift, propelled by the success of "Barbie."
The film, drenched in pink hues, has shattered records, crossing the $1 billion mark in global ticket sales after just three weekends in theatres according to Warner Bros Pictures, marking a significant milestone to become the highest-grossing movie directed solely by a woman.
On the domestic front, "Barbie" – a movie directed by Oscar-nominated writer and director Greta Gerwig, raked in an impressive $459 million from North American theatres, with an additional $572.1 million pouring in from overseas screenings over the three weekends, culminating in a staggering total of $1.0315 billion, according to media analytics firm Comscore.
This figure surpasses the previous record held by the superhero movie "Wonder Woman" directed by director Patty Jenkins and the Cyberpunk action movie "Matrix Reloaded," as shown in the Techloy chart below.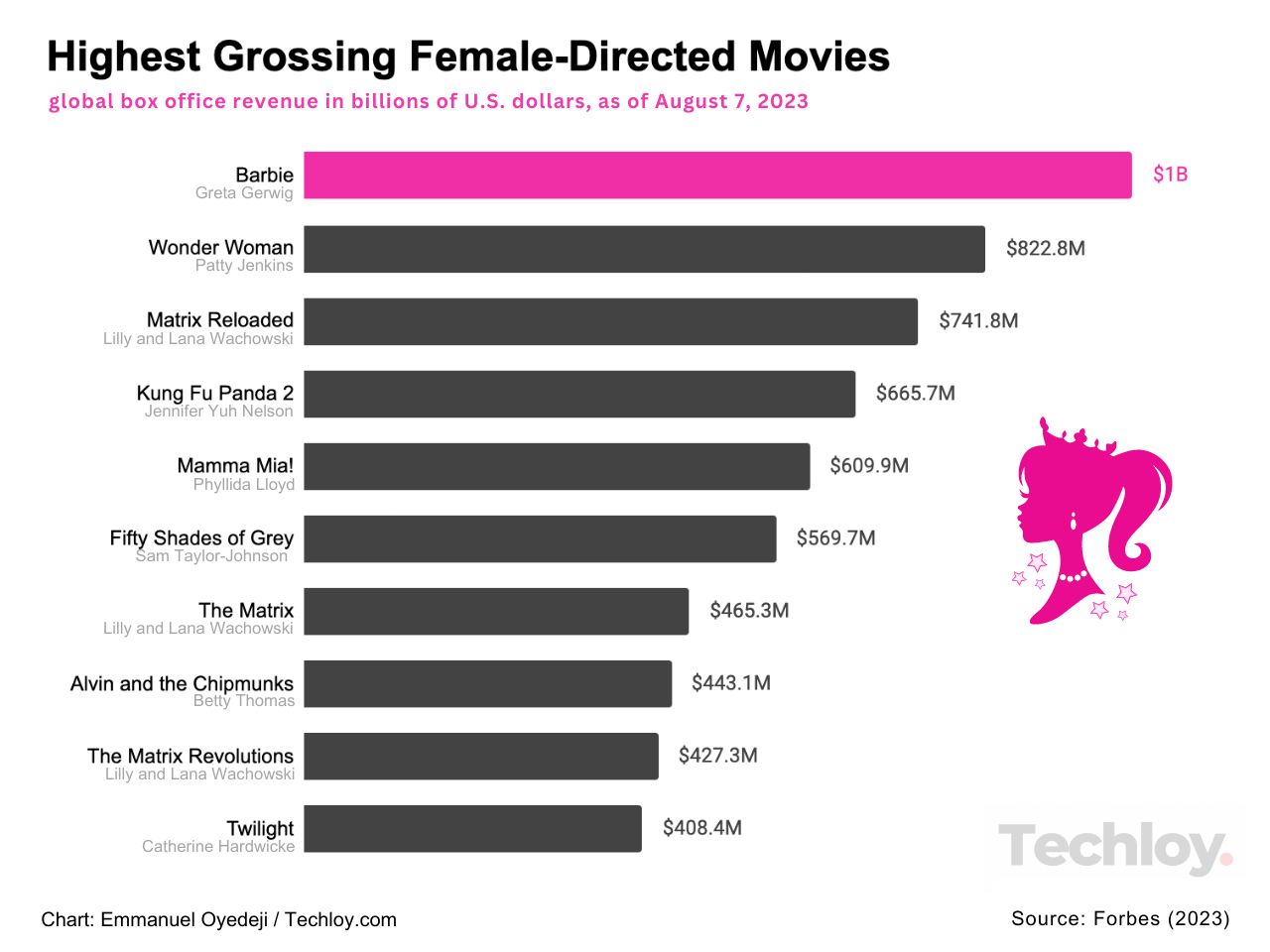 Notably, three movies co-directed by women still occupy higher positions than "Barbie" in record sales. These include "Frozen" ($1.3 billion) and its sequel "Frozen 2" ($1.45 billion), both co-directed by Jennifer Lee, as well as "Captain Marvel" ($1.1 billion), co-directed by Anna Boden.
Overall, Barbie joins the top 53 movies that have breached the $1 billion threshold (without accounting for inflation) in the annals of modern box office history, according to a report by the Guardian.
Meanwhile, another theatre release "Oppenheimer," is also doing well in its own right. Having made $552 million globally in just three weeks, the J Robert Oppenheimer biopic starring Cillian Murphy has now claimed the title of the highest-grossing R-rated film of the year and ranks as the sixth-largest grossing film of the year overall, surpassing even "Ant-Man and the Wasp: Quantumania", per the Guardian.