The worldwide information technology and business services market which is growing (in constant currency) by 5.7% this 2022, and 5.2% by 2023 (in nominal dollar-denominated revenue) is expected to grow by 2% in 2022, due to currency headwinds, according to the International Data Corporation (IDC).
The IDC maintained its projection for the worldwide services market even against the backdrop of a global recession. Although worldwide GDP growth has worsened since March/April it is expected to grow by only 2.7% this year and 2.4% in 2023.
On a geographic basis, IDC has largely maintained its outlook for the Americas with Canada's long-term forecast remaining intact. Overall, the US market is expected to grow 4% to 5% year over year in the coming years.
The growth outlook for Asia/Pacific region is forecast to grow at around 5.5% year on year, with faster-than-expected recoveries happening in mature markets like Australia and New Zealand, and more vibrant emerging economies in Southeast Asia.
The outlook for the Middle East & Africa (MEA) year-over-year growth is between 6% and 8%, while the short-term outlook for Europe - Central and Eastern Europe (CEE), a growth of just 3.6% as economic conditions have worsened in the region while Western Europe's growth rate is expected to go beyond 7% for this year (in constant currency) and 5.5% to 6% growth per year for the next four years.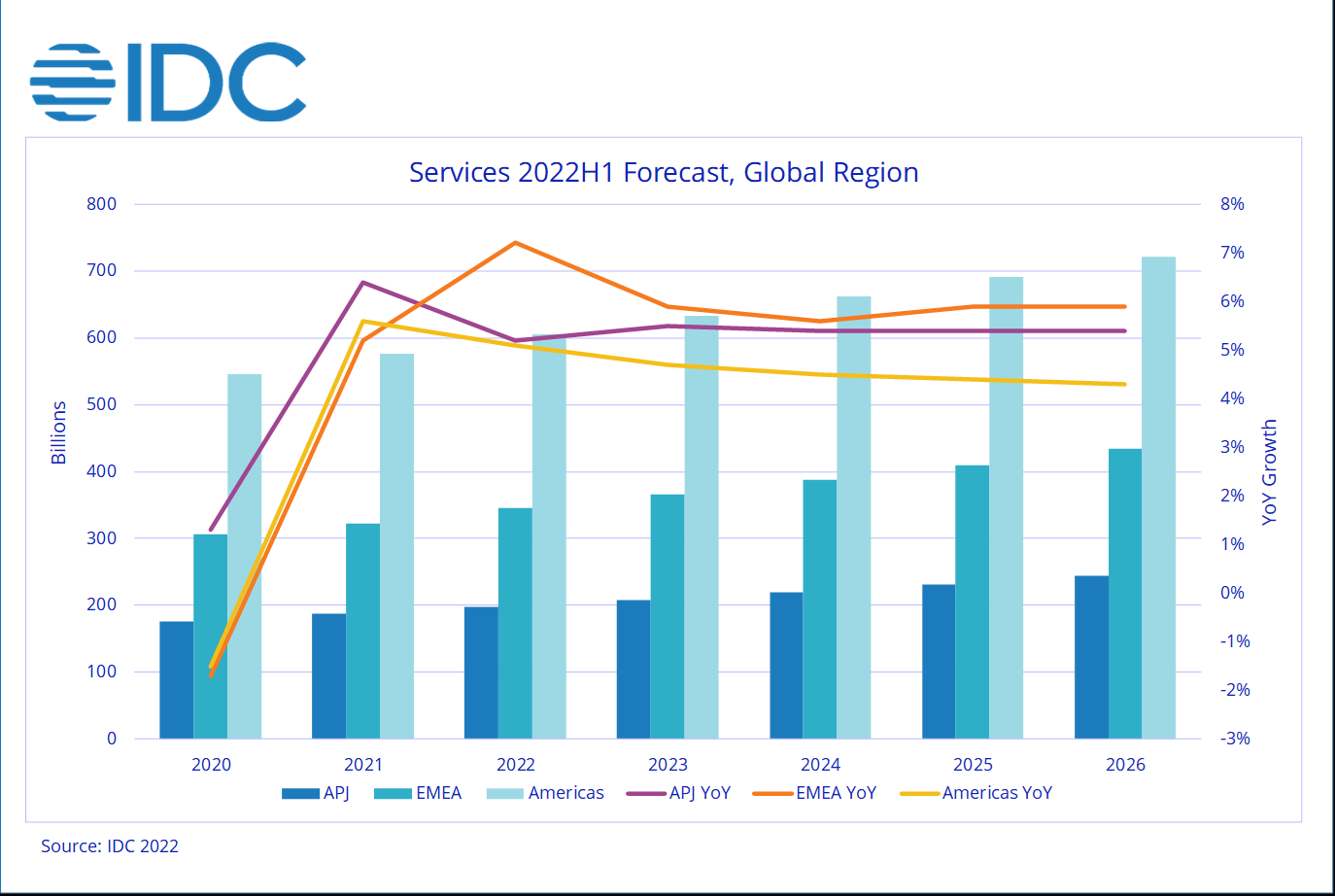 "While economic conditions for major economies around the world worsened in the last few months, given the services vendors' strong revenues, bookings, and other leading indicators, the worldwide services market will likely continue on its current growth trajectory," said Xiao-Fei Zhang, program director, IDC Worldwide Services Tracker program