Following Lionel Messi leading Argentina to win the FIFA World Cup in Qatar this year, the football star's celebratory photo dump is now the most-liked item on the Internet.
The post, featuring a picture carousel of the footballer with the trophy and with his teammates celebrating their historic win, is now the most-liked Instagram post ever, sitting at over 71 million likes as of December 22, and surpassing all the records for the most-liked post on all prominent social media platforms including, a mysterious Instagram post of a simple egg that garnered 57 million likes after being posted in 2019.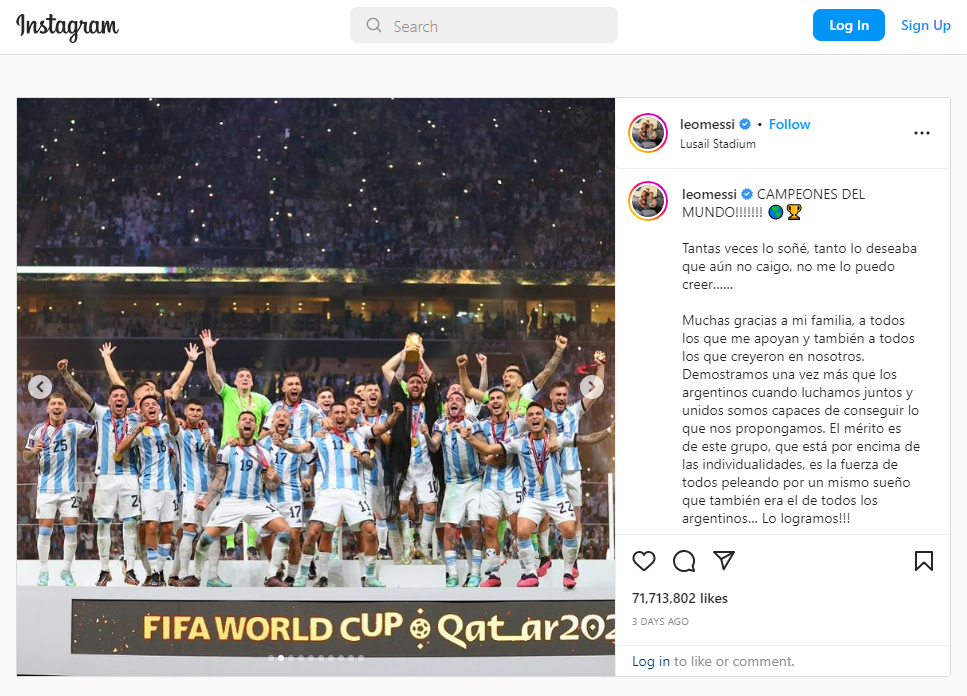 Other notable most-liked posts across social media include Twitter's record of 7 million likes, for a tweet announcing the tragic death of Black Panther actor Chadwick Boseman; YouTube's record of Luis Fonsi's music video for "Despacito" with 50 million likes; and Bella Poarch's wildly-viral TikTok from 2020, which has over 60 million likes.
This news comes amid other social media-related records being broken all because of the renowned football tournament.
According to Meta founder and CEO Mark Zuckerberg, messaging platform, WhatsApp reached a record 25 million messages per second during the Argentina-France final.
Twitter CEO, Elon Musk also revealed that during the Qatar finals, the social media platform Twitter saw over 24,000 tweets each second. This came when Kylian Mbappe scored the second goal for France to tie Argentina in the final match.
Meanwhile, Google CEO Sundar Pichai also shared a tweet saying that "Search recorded its highest ever traffic in 25 years during the final of #FIFAWorldCup, it was like the entire world was searching about one thing!"