Elon Musk-founded space technology company, SpaceX has announced the commercial availability of Starlink, its satellite internet service, in Nigeria, several months after it signed an agreement with the Nigerian government to bring the service to the West African country.
In a tweet posted on Monday, the company said that Nigeria is the first country in Africa to receive the service, and according to Techloy's research, the 46th country in the world where the service has now gone live.
The service, which is capable of delivering up to 200Mbps internet speeds to any location in the world, currently has more than 400,000 subscribers worldwide and has been licensed to operate in all seven continents of the world.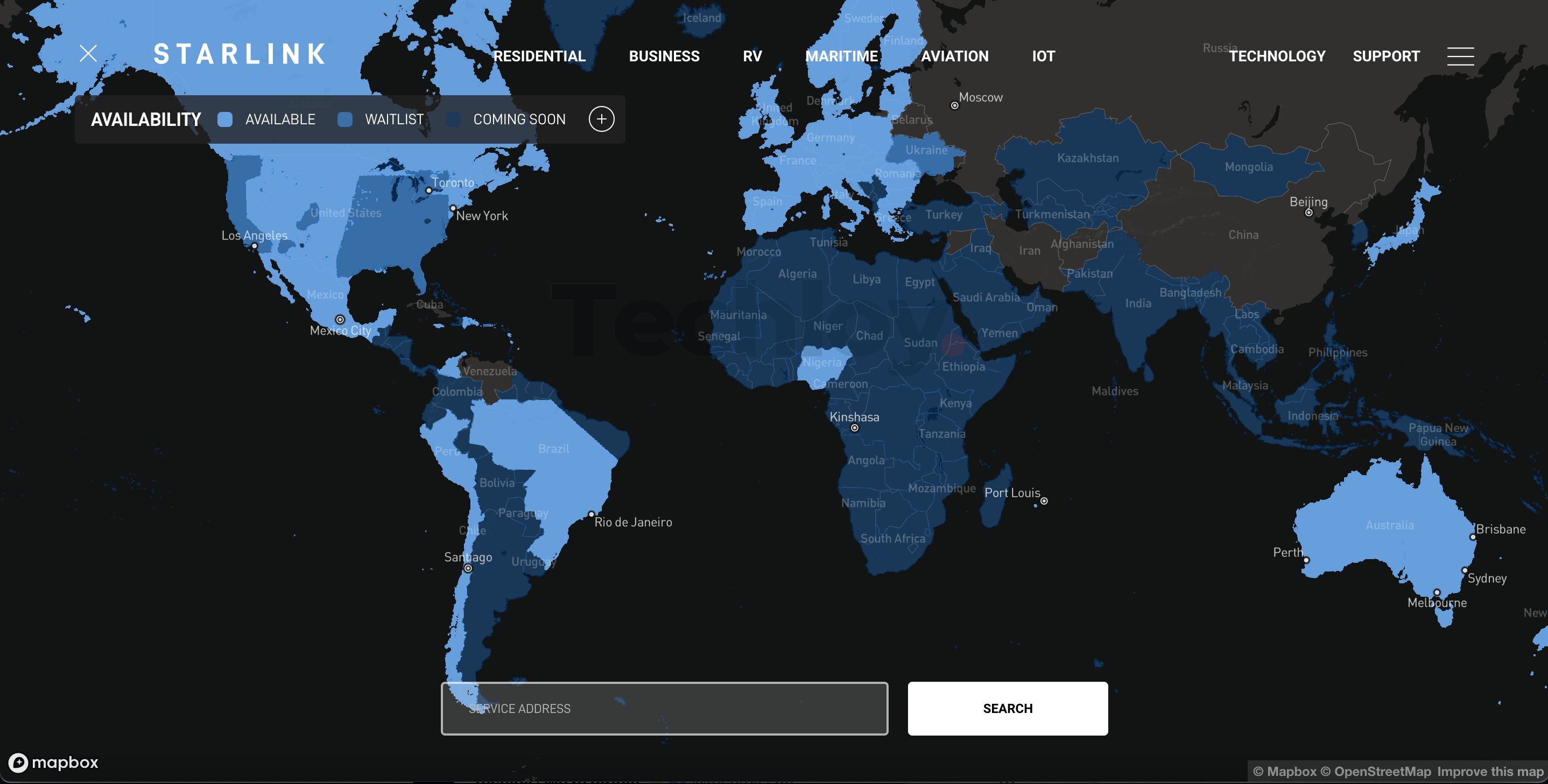 On a median average, Nigeria's fixed broadband download speed was pegged at 11.40Mbps and upload speed was 9.87 Mbps, while its mobile internet download speed was 21.54Mbps and upload speed was 10.10 Mbps, as of December 2022, according to data from Ookla's Speedtest Global Index.
The telecom operators providing the fastest internet speed in Nigeria – MTN and Airtel – boast a median download speed of 21.71Mbps and 22.42Mbps respectively, according to Speedtest Intelligence. However, there are other internet service providers such as ipNX that boast speeds of up to 150Mbps for its fibre-optic service for residential customers and up to 500Mbps for its fibre-optic service for business customers – costing between ₦40,000 and ₦160,000 monthly with a hardware cost of between ₦45,000 and ₦70,000.
For a satellite internet service like Starlink boasting up to 200Mbps speeds, you wouldn't expect it to come cheap. According to a recent Techloy analysis of the cost of Starlink's service in 15 selected countries across Europe, Asia, Africa, and America, based on our research from the SpaceX-owned satellite broadband internet service, Nigeria was one of the countries with the highest cost of the Starlink service.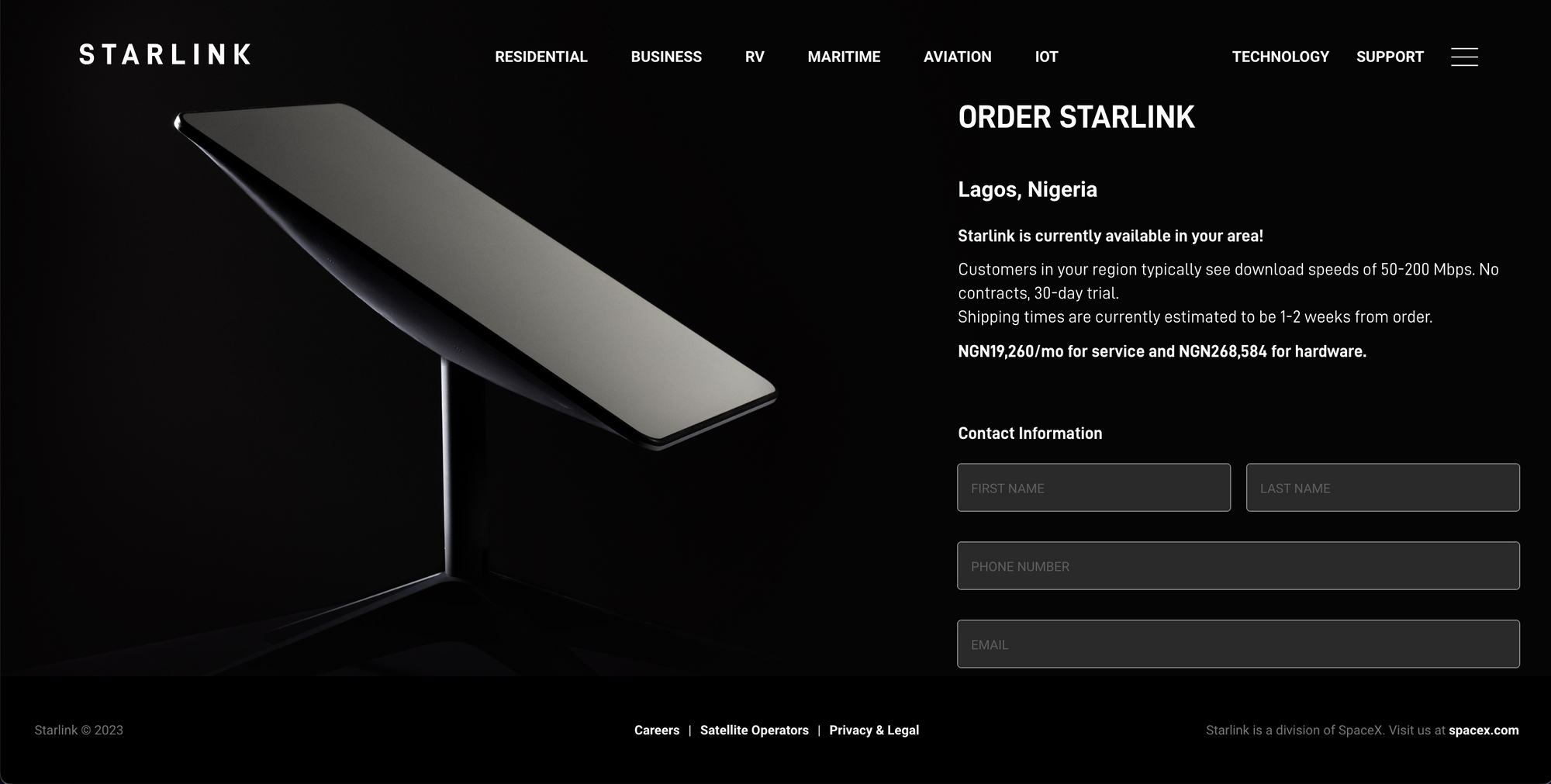 In early January this year, Starlink had initially fixed $599 as the cost of its hardware in Nigeria and $43 as the cost of its monthly subscription, according to information from the SpaceX website, as of January 8, 2023. However, the company has now adjusted the cost to ₦268,584 for the hardware equipment and ₦19,260 per month for the service, as of January 31, 2023.
With this pricing, although still extremely beyond the reach of an average Nigerian living in a country with a minimum wage of ₦30,000 per month, Starlink's foray into the Nigerian market could still pose a huge threat to existing telecom players, internet service providers, as well as satellite broadband services such as Coollink's Konnect which boasts speeds of up to 100Mbps, costing about ₦135,000 monthly and a ₦65,000 tag on equipment and installation fees.
While Starlink currently offers a good alternative to existing internet service providers in Nigeria, a massive adoption rate remains to be seen. It would be interesting to see if Starlink can deepen broadband penetration in the country, especially in remote parts.