Satellite internet competition is intensifying as Ookla releases fresh data from Q4 2022 and Q1 2023 for major players in North America, South America, and the Caribbean.
Ookla's analysis includes the Net Promoter Score (NPS) for metro and nonmetro internet connections in the United States, year-over-year data for SpaceX's Starlink in Canada, Chile, Mexico, and the United States, and Starlink results from three new countries (Philippines, Nigeria, and Peru).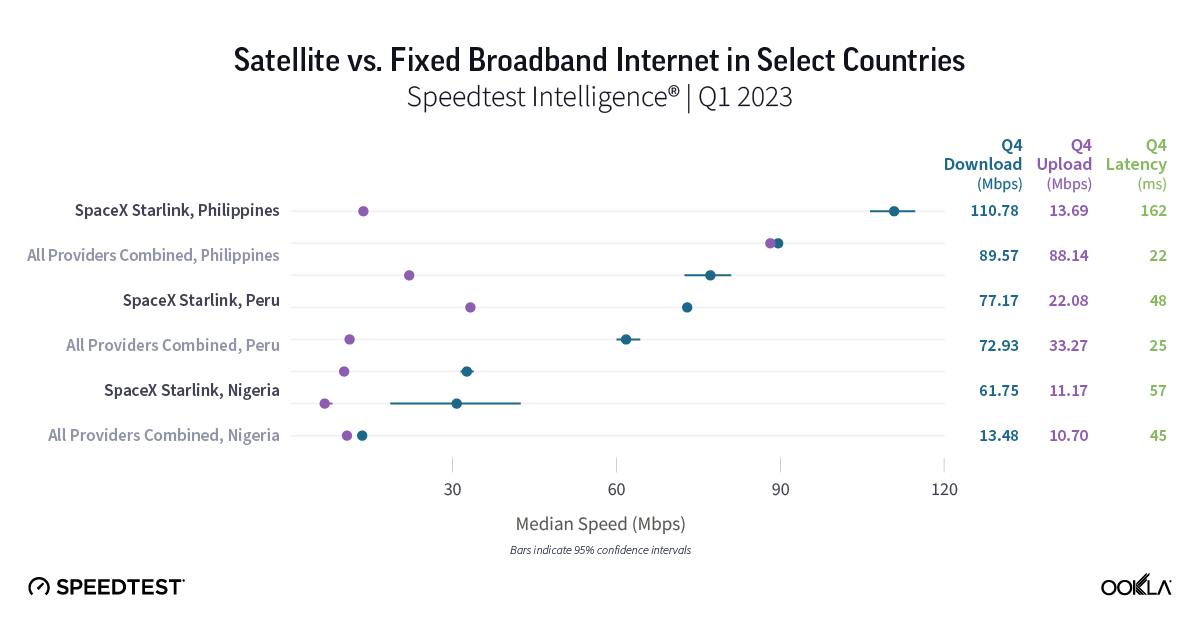 According to Speedtest Intelligence data, Starlink achieved median download speeds for satellite internet in Nigeria (61.75 Mbps) and the Philippines (110.78 Mbps) faster than all fixed broadband providers combined.
In Peru, Starlink's median download speed was statistically too close to call at 77.17 Mbps for Starlink and 72.93 Mbps for all providers combined. Starlink, however, had slower upload speeds in all of the new countries except Nigeria.
Speedtest Intelligence reveals that Starlink in Jamaica was the fastest satellite provider in the Caribbean at 83.79 Mbps during Q1 2023, surpassing all fixed broadband providers in Jamaica, while both Starlink and Viasat were faster than all providers combined in the Dominican Republic during Q1 2023.
Overall, Starlink continues to impress in the satellite internet space, especially in new markets like Nigeria, Peru, and the Philippines, and in the Caribbean, where it is leading the competition.